Friends of Hastings Cemetery
Dr. Thomas Gambier continued
Painting by permission of Hastings Museum and Art Gallery (who also hold Dr Gambier's Bible, early photos of Eversfield Hospital, and the original sign for the hospital) Portrait of Dr.Thomas Gambier, founder of the Eversfield Hospital, St. Leonards painted in oil on canvas, signed L. Carr Cox and dated 1909. [Painted in the home of Dr. David Walther]
The "remarkably fine portrait in oils of Dr. Gambier" was presented to 'the founder and resident medical superintendent of the Eversfield Hospital by Mr Harvey Du Cros, amidst great acclaim by his colleagues (Hastings and St Leonards Observer East Sussex, 18 Dec 1909) and was later put on public display at the Galleries of KENT & LACEY, 25, White Rock.
THAT BEAUTIFUL HOSPITAL - Numbers of patients Had gone back to their work strengthened and refreshed, and healed in their souls, so a double blessing had fallen. …………………………………….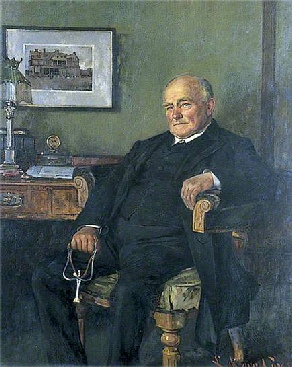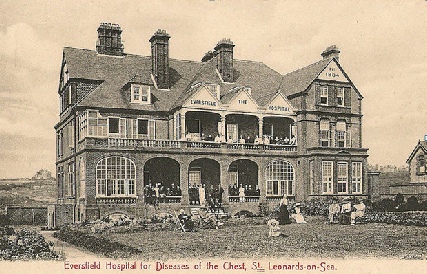 Mr Harvey Du Cros said his wife had the pleasure of opening a bazaar for Dr. Gambier last year and had told him 'EVERYBODY LOVES DR. GAMBIER' …………..
Dr. Gambier's life had shown that 'rest lay in labour [Kingsley] and that the happiness he enjoyed lay in doing good to other people…….
That which Dr. Gambier began was like the mustard seed which was compared to the Kingdom of Heaven.
[Dr Gambier replied, summing up the continuing progress of the hospital. - See citation for full report]