Friends of Hastings Cemetery

AT K05
Sacred to the Beloved Memory of
Robert George Hunter Grant
Major General
Royal (Madras) Horse Artillery
Born 18th June 1824. Died 10th May 1897
"and
His banner
Over me was
love"
Flora - 24 August - 1910
From The Guardian - GRANT.—May 10, [1897] at 40, Marina. St. Leonard's-on-Sea, Robert George Hunter Grant, Major-General, late Royal Artillery, aged 72.
Major-General Robert G. H. Grant, whose death is just announced, belonged to the Royal (Madras) Artillery. He served in Bundelkhand and in the Saugor and Narbada territories in 1842, and was at the capture of Kirapur. The deceased officer, who was 72 years of age, retired twenty-five years ago. - The Colonies and India Details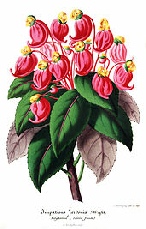 In July 1841 Flora Alexandrina Matilda Macleod, niece of General L. W. Watson married, in India (Madras?) Thomas Caverhill Jerdon, a British physician, zoologist and botanist.
Flora had an interest in botanical art and took an interest in orchids. She was also an excellent guitarist. Around 1845 the Jerdons lived in their Ooty home Woodside, (Woodside originally belonged to General Watson) and their children were baptised at the local St. Stephens church.
Her husband's health failed and they returned to England in June 1870. He died in June, 1872. Flora died in St Leonards in 1910.
Hastings and St Leonards Observer 3 September 1910. p. 2
OBITUARY. MRS. JERDON.
We regret to have to record the death, at her residence, 40, Marina, on the 24th August, of Mrs. Flora Alexandrina Matilda Jerdon, widow of the late Dr. Jerdon, of the Madras Medical Service, at the age of 81 years. The funeral took place on Monday the Borough Cemetery. The Rev. Sholto J. H. Newman officiated.
Impatiens jerdoniae was named after Flora Jerdon by Robert Wight