Friends of Hastings Cemetery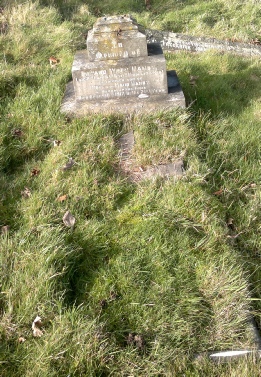 EH E34
In memory

Edward Wrey Hanby

Late 2nd Lieut. 6th
Battalion Middlesex,

The younger son of Wrey and Maud Hanby at Barrackpoore India,

Died April 28th 1917 in his 21st year at St Leonards on Sea
INFANTRY.
The undermentioned Cadets and ex-Cadets ,of the Officers Training Corps to be Second Lieutenants (on probation). Dated 5th ;May, 1915: —Edward Wrey Hanby, 6th Battalion, .Middlesex Regiment
His father, Mr. Wrey Edward Hanby, M.B.E., joined the engineering branch of the Public Works Department in Bengal, c.1888, and spent most of his career working for the Eastern Bengal State Railway, retiring in 1917 as a Deputy Chief Engineer.
His parents retired to Tasmania and his Mother died there in 1920. His Father was later appointed Municipal Commissioner, Dehra Dun, and served for eleven years as a member of the Dehra Dun Municipal Board, 1927-38, and played an instrumental role in the new Dehra Water Scheme

Hastings & St Leonards Observer, 5 May 1917, p.5
The death occurred on April 30th of 2nd Lieutenant Edward Wrey Hanby. The deceased officer, who had barely obtained the age of 21 years, was the younger son of Mr. and' Mrs. Wrey Hanby. Mr. Hanby is deputy engineer of the Eastern Bengal Railway.
The gallant young officer, whose death occurred from tuberculosis, following an illness while on active service, was born in India, and passed straight into the Army from school. He was educated at Magdalen J School, in Oxford, and from there passed on to Felsted, where he became a member of the Officers' Training Corps. He obtained a commission, in the Middlesex Regiment in 1915, and last year was with his Battalion at the front, but unfortunately his illness developed, and within two months he was invalided home.
The funeral took place on Thursday, the first portion of the service being held at St. Mary Magdalen Church, at which the Rector (Rev. A. Hume Simpson) officiated. The interment was at the Borough 'Cemetery. The chief mourners were:—Mrs. Hanby, Miss Hanby, Lieutenant Hanby, Mrs. Christie, Mrs. Fitt, Miss Christie, Nurse Chapman, Mr. Robertson and Mr. Moyle.
His older brother Dennis, was a lieutenant at the time he attended his funeral. A National Archives record shows – Captain Dennis Wrey HANBY. Railway Traffic Officer.
In 1948 the following appeared in The Courier-Mail (Brisbane, Qld) Saturday 20 November 1948
HANBY: Will Dennis Wrey Hanby or any person knowing his whereabouts please communicate with underslgned in connection with his Mother's Will. DOUGLAS & COLLINS,(solicitors. 27 Paterson St., Launceston. Tasmania.
Australian censuses show he moved around between Tasmania, New South Wales and Queensland.