Friends
Of
Hastings
Cemetery
Jane Elizabeth Head died 1875 aged 67
On the gravestone:
Widow of late Colonel Charles Franklin Head. 'They also which sleep in Jesus will God bring with him. In my Father's House are many mansions.'
Right side - 'Come unto me all ye who labour and I will give you rest.' Emily Katherine, daughter of …..who died aged 76 in January 1911.
Left side - 'They dwell in the house of the Lord forever. In loving memory of Julia Maria Head youngest daughter of Lieut. Col Charles Franklin Head and Jane his wife, died 30/10/1920 aged 77.'
Jane Elizabeth Dawes (daughter of Weeden Dawes and Katherine Watson) was born in 1807, in Rye and died Nov 1875. She married Charles Franklin Head on 13 Sep 1831.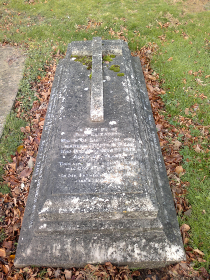 Charles Franklin Head (d. May 1849)
We can identify Charles by matching date of death with Charles Franklin Head (d. May 1849) Artist - Captain Head was an officer in the Queen's Royal Regiment. After serving in India, he travelled home to England using a detour on what became the well-trodden Overland Route.