Friends
Of
Hastings
Cemetery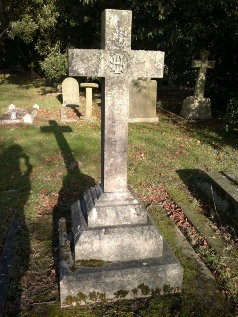 Samuel Creagh Head - died 26 March 1873, aged 47
Also of Agnes, daughter of the late Major Samuel Creagh Head
Born 1826 in Halifax Novia Scotia – Died 21 March 1873, resident at 31 Marina, St Leonards on Sea.
Served with the 61st regiment of Foot – South Gloucester's, most certainly in India, and at the time of the Indian Mutiny the regiment was stationed at Farozepol, and was one of the first British units to reach and protect Delhi.
The Regiment returned to the UK in 1860, having served in India for no less than 17 years.
He next appears in the 1861 census, as living at Raglan Barracks, Plymouth where the 61st Regiment of Foot are recorded on the census night. His rank is given as Captain.
The 1871 census records him and his wife as visitors at the house at Sussex Square Brighton, home of Henry Moor, Deputy Lieutenant of Brighton & Sussex. JP – the father of his wife Agnes. He is recorded as Major – unattached late of 61 Regt of Foot. That is, he still hold his commission in the British Army, but is not attached or part of any unit strength. He would be on half pay, as a lot of officers were ,after the wars.
Probate records gives his address 10 Upper Park Place, Queens Road, Richmond. Major (unattached) HM Army on 21 March 1873 at 31 Marina....
Probate granted to Agnes Head 0f 10 Upper Park Place ( Widow), Henry More of 3 Sussex Square Brighton and Rev George Douglas Dawes of St Leonards, Clerk to Executors. - Granted 28 April 1873.