Friends of Hastings Cemetery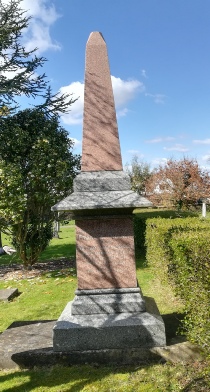 DC A18 Head/Breach
In Affectionate
Remembrance of

William Head


1 Pelham View Cottages
Hastings
Who departed this life
April 4th 1881. Aged 54 years.
His end was peace
He is not dead but sleeping
In the midst of life we are in death
Erected by his sorrowing widow
Frances Head
In Loving Memory
Frances
Wife of
William James Breach
Who entered into rest
February 10th 1911
in her 81st year
Her end was peace
There is a Frances Mary Tomlin, born in 1829 who married a William Head in 1848.
The 1851 census shows, presumably them, them living at 7 Priory Road
HEAD William Head M M 24 Butcher Sussex - Fairlight
HEAD Frances Wife M F 22 Wife Of Butcher Sussex - Hastings
Despite the impressive obelisk in in pink granite not a lot is known of this couple. We know from the gravestone that Frances subsequently married a William James Breach. However all these names are quite common in the district.