Friends of Hastings Cemetery

L. D. K27

Died 31 October 1918, aged 17. Audrey was a nurse in the Voluntary Aid and the daughter of Mr. and Mrs. Heritage, of The Haven, Sandhurst Lane, Little Common, Bexhill-on-Sea.
She was also a local guiding Patrol leader.
In the 1066 Forum - Mike Peckham records from his grandmother's diary (Beatrice Gildersleeve) that she was a guide and "Our real job started, I believe, early in 1915 when a House was opened in Holmesdale Gardens to be used as a VAD Hospital & we helped to prepare it & were proud to be present at the official opening.

Soon after, the first patients were brought to Hastings & these were a party of badly wounded Belgians who came straight from the front and arrived at about midnight.
From then until the war was over our company did various duties at this VAD hospital which grew into four houses - two each side of the road.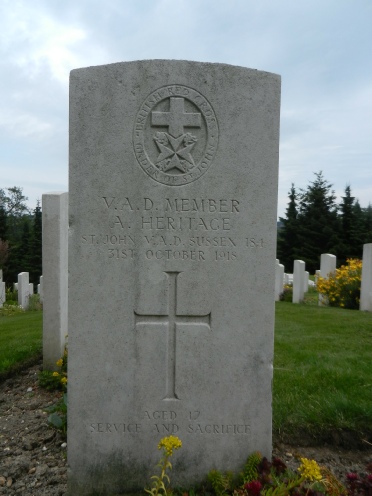 "One or two became probationers after joining the St John's Ambulance. One in particular became a very loyal and useful probationer, with a keen sense of duty. During the epidemic of Spanish Flu which attacked Britain in 1918 she remained on duty when so many were stricken that the nursing staff were sadly depleted. At last off duty, she went to bed sick and tired and was found next morning – called to higher service. She was buried with full military honours in the hero's corner at the Borough Cemetery. The lamp first used by the local branch of toc H (women's section) was dedicated to her memory and known as the Audrey Heritage Lamp. She was a guide of the 2nd Hastings Coy." [Private correspondence from Mike Peckham; more form his grandmother's diary]