Louisa Hickman's chief philanthropic interests were the Royal East Sussex Hospital and Dr. Barnardo's Homes. Long before the present Hospital building took place Mrs. Hickman and her great friend and co-worker, Mrs. Thomas were organised many bridge parties and other functions to raise money for the completion….. Practically the last public appearance she made was to help with the great three days' Hospitals Fair in the White Rock Pavilion in 1938……
Although a vice-president of the Hastings' Habitation of the Barnardo's Helpers' League. Mrs. Hickman gave almost equal interest to the St Leonards' Habitation, here again working with her friend Mrs. Thomas particularly at bazaars at the Masonic Hall. She had a great love for children and no appeal on their behalf was ever made to her in vain.
One of the original members of the Mayoress's Christmas Fund Collection Committee. Every year found Mrs. Hickman busily engaged with the work of preparing the parcels. For many weeks before Christmas she organised a number of functions, mainly bridge drives, to help to raise funds. She was also prime mover the Mayoress's Toy Ball, and always took a large party of friends to this function.
During the last war. Mrs. Hickman in conjunction with Mrs. Gore, arranged teas for soldiers' wives at the Holy Trinity Parish Hall. This was but a small part of her war work, which, like so many other acts of hers, was performed so quietly that only those who benefited knew them.
A Dame of the Primrose League, Mrs Hickman always took a prominent part in the charitable side of this organisation……
Four years ago Mrs. Hickman underwent a serious operation. She appeared to make an excellent recovery but about a year ago illness again overtook her and she had been unable to leave her room since March. Mrs Hickman leaves two sons and four daughters, also twelve grandchildren ranging in age from three months to nineteen years.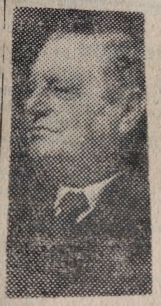 From quite an early age he farmed on Pevensey and Romney Marsh, and on the death of his father took over Hole Farm, which carried on until recently. He was also chairman of Messrs. Skinners (Hastings). Ltd. A well-known authority on livestock he was for four years chairman of the Livestock Traders' Association, and during the last war acted as Beef Adviser to the Food Council.
He was one the largest landowners in the Pevensey Level and Romney Marsh areas and was for years a member of the Pevensey and Old Haven Catchment Board. He leaves a family of two sons and four daughters, Mrs. Hickman having died several years ago.
THE FUNERAL The funeral took place yesterday (Friday) afternoon, and was attended by a representative gathering of agriculturists of the district and others from distant places. A service at Blacklands Church preceded the Interment at the Borough Cemetery the Vicar (the Rev Dr. J. Morgan) officiating.
The family mourners were: Mrs. T. R. Kirkpatrick (daughter) Mr and Mrs. Frank Hickman (son and daughter-in-law). Mr. and Mrs. Charles Hickman (son and daughter-in-law). Major and Mrs. Spencer Batchelor (son-in-law and daughter). Air Commodore Hi C. White. C.8.8.. and Mrs. H C. White (son-in-law and daughter) ; Mrs. H. Wells (daughter). P/O Jean Kirkpatrick (grand-daughter): Mrs. Jeffery (sister) Major Kirkpatrick (son-in-law) was unable to be present owing to service overseas. Among those present were Mrs. J. Parsons (sister). Misa Parsons. Mr. T R. Kirkpatrick. Mr. C. Hickman (brother), Mr. and Mrs. A. G. Hickman (brother and sister-in-law), Mr. P. Hickman (brother), Mr and Mrs P Henley brother-in-law and sister), Percy Henley, Mr. G. Hickman (nephew).
There were many other mourners, including the staff of Skinners, and an appreciation in the Observer by a Mr. Walter Merrick
Hole Farm came up for sale in 1945 as the result of the death of John Hickman in January of that year. The farmhouse was described as having eight bedrooms, two bathrooms, lounge hall, three reception rooms and billiards room in about 2½ acres of land stocked with pear, plum and apple trees and a soft fruit and nut plantation all capable of conversion into a nursing home etc or two private residences for £3,750.
Land west of Hillside Road, part of site of proposed new grammar school Purchased for £4225 from John Hickman, Hole Farm, Hastings under the Education Act 1921 by the Council in Committee / Purchased for £700 from John Hickman, Hole Farm, Hastings under the Education Act 1921 by the Council in Committee.
The farmhouse was sold again as suitable for development in 1954 but remained for a number of years, becoming part of the fledgling Ashford Road. By 1959, planning permission was granted for construction of a housing estate on the land, the area being described as the 'Hole Farm Estate', with the farmhouse finally disappearing under the housing of Hole Farm Close by 1972.