Friends
Of
Hastings
Cemetery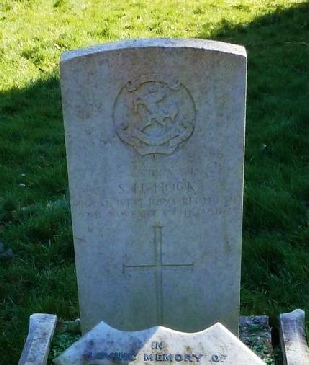 Sidney Herbert Hook KI E01 CWG
Sidney was a private (8945) with the Queen's Own (Royal West Kent) Regiment, 12th Battalion, when he died on 2nd November 1916 aged 33. He presumably died of wounds, an accident or illness as his death was registered locally and he is buried in the cemetery in a family grave.
He was born in Hastings in 1883, the son of James and Harriet Hook. He was one of ten children, 9 of whom survived. All the children were born in Hastings, as was his father. His mother came from Westfield.
In 1901 the family were living at 224 Harold Rd, Hastings, the parents, four adult sons and a 15 year old sister. Sidney (19) was a brewer's labourer like his older brother James (31). His brother Thomas (26) was a grocer's porter, Edward (21) was a shoemaker and his sister Annie (15) was a dressmaker. His father's occupation is given as bath chairman.
His father James' occupation is given as bath chairman. James died in 1888, and is buried in EH J29
By 1911 Sidney is living as a boarder in Acton, London with an ex-Hastings family, the Marwicks. He is working as a general labourer.
However he must have returned to Hastings by 1915 because his address at enlistment on 10th July 1915 was given as 222 Old London Rd, Hastings. He was still single at 32, and working as a painter.