Friends
Of
Hastings
Cemetery
The Howell Family - ED
The east side of plot ED contains three graves belonging to the Howell family. The first is that of John Howell senior and his wife Ann - ED S18. They married in September 1850 at Winchelsea. He was a builder and she was the daughter of the landlord of the Castle Inn.
He was a prominent Liberal Party activist and had become Mayor of Hastings by 1878. He built many of the great Victorian buildings in Hastings, particularly the Assembly Rooms and Holy Trinity Church in Robertson St. He also constructed the town's mains drainage system. His house, Priory Mount, was in Cambridge Gardens. He worked with his son on some major projects before retiring.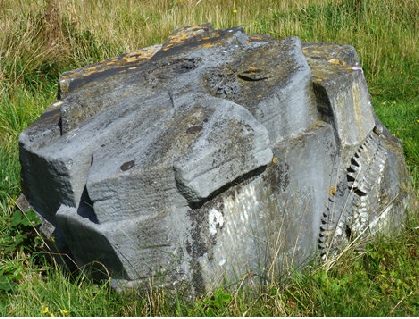 Death of John Howell - From the Hastings News of 08/12/1893
The prominent local builder and politician John Howell, of Priory Mount, 7 Holmesdale Gardens, died on Friday 1 December, aged 69. He had always been an active campaigner for the Liberal Party. In the 1859 general election he had been instrumental in upsetting a Liberal/Tory compromise, whereby the parties would have had an MP each. Instead, Howell was key in helping two Liberals win. (Frederick North and Harry Vane). Howell was a councillor for many years, on and off, in the 1860s and 70s, and was mayor in 1878.
The text inscribed on the face of the rock says
"A good life hath
But a few days, but
A good name
Endureth for ever.