Friends of Hastings Cemetery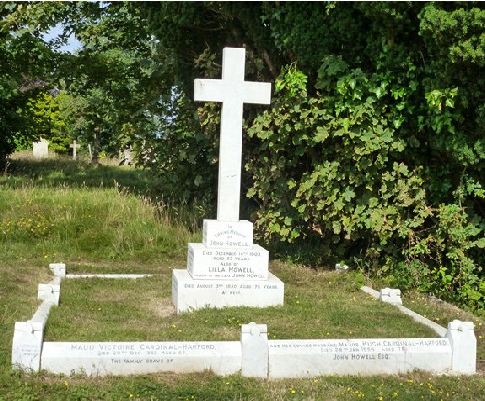 John Howell Junior


This is his family grave, and beside himself and his wife Lilla, there are memorials to his sons and grandsons, who all seemed to have followed a military life.
John himself became a solicitor but was also his father's business partner in the building profession. With his father he was responsible for a lot of the major Victorian building works in Hastings. Together they built the United Reform Church in Robertson Street. John Junior also built Hastings Grammar School and St Peter's Church.
The 1891 and 1901 census suggest he lived in some style. He died at his home 20, Holmesdale Gardens, a house he had built with his father.
Also commemorated is his step-son, Major Hugh Cardinal-Harford, born 1877 who served in South Africa with the 5th Imperial Yeomanry as Lieutenant and was dangerously wounded at Vaalkop 12.6.1901. He accompanied 13 Battalion Essex Regiment to France as Officer Commanding 'D' Company in 17.11.1915; and rose to Major in May 1917. He seems to have been much decorated. http://westhampals.blogspot.co.uk/2013/03/captain-hugh-cardinal-harford.html
NEXT
Maud Victoire Cardinal – Harford
Died 20th Dec. 1953 Aged 67.
Also of CECIL JOHN
Captain of the Buffs
Eldest son of JOHN HOWELL
Died May 26th 1946
Aged 63 Years
"He like a soldier Fell.
And his loving wife EDITH
Died 3 Jan. 1957. Aged 67
Also of PETER JOHN
Son of
CECIL JOHN HOWELL
1920 – 2008
Once a Green Howard
Always a Green Howard
Also of PEGGY HOWELL
Wife of Peter John
1920- 2011