Friends
Of
Hastings
Cemetery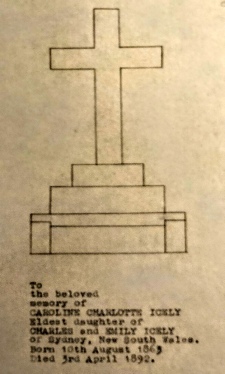 To
the beloved memory of
CAROLINE CHARLOTTE ICELY
Eldest daughter of
CHARLES and EMILY ICELY
of Sydney, New South Wales.
Born 10th August 1863
died 3rd April 1892.
The Sydney Morning Herald Fri 14 Aug 1863
Family Notices
On the 10th instant, at Macquarie Plains, Bathurst, Mrs. Charles Icely, of a daughter.
Parents - Charles and Maria Emily Icely listed in "Australian Royalty: Genealogy of the colony of NSW"
She was the great-grand-daughter of Lieut. William Lawson, pastoralist and Blue Mountains explorer.
Leader (Orange, NSW) Wed 12 Jun 1918 Mr. and Mrs. Icely years ago owned Goimbla, the scene previously of the episode wherein the then owner, Mr. Campbell, shot a bushranger dead. A brother, Thomas Icely, owned Coombing Park, afterwards purchased by the late W. F.Whitney, and now the splendid residence of Mrs. Whitney. The Icely family was also connected with land grants at Byng, Carangara, and Lewis Ponds, whence the name Icely, which in the old days of copper-mining in that locality was known as "The Icely," and people spoke of 'The Icely Copper Mines." Residents will see in this the derivation of the Icely-road.
Mr. Icely engaged in pastoral pursuits in Orange. Subsequently he and his family visited England, where they resided for several years. After the death of her husband in the old country- ICELY.—December 15, at Baths, Somersetshire, England, Charles Icely, son of the late Honble. Thomas Icely, M.L.C., of Coombing Park, Carcoar. -
Mrs. Icely and family returned to Sydney,
The Sydney Morning Herald Thu 27 Apr 1893
In the Supreme Court of New South Wales
In the Estate of CAROLINE CHARLOTTE ICELY, late of Sydney, in the colony of New South Wales, Spinster,deceased. … (who died at St. Leonards on Sea, in England, on the third day of April, 1892)....