Friends
Of
Hastings
Cemetery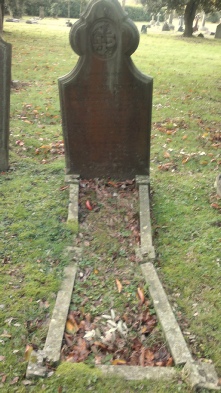 AH A09
In Loving Memory of
Mary Anne Rosina
beloved wife of Henry Edward Ingleton
Died 8th January 1878
Aged 28
From her we love tis hard to part
She whom our God hath given
But we shall still be joined in heart
And hope to meet in heaven.
Also of dear Daisy
called to Jesus Nov 1 1918
Aged 11.
Also of
Henry Robert George Ingleton
Died 10 Aug 1952
Aged 80
Mary Anne Rosina Terry married Henry Edward Ingelton in 1871.
Henry R G Ingleton was born in 1873.
They had another son, Albert Edward, born at the end of 1877.
Mary Anne died in Janaury 1878 and Albert died, aged 9 months in August of the same year.
Henry married again in 1889, another Mary. (They are buried in MB E37)
Daisy [Dolly?} Was their daughter.
Death - January 2nd, 1878 at 14, St Andrew's-road, Hastings, Mary Ann Rosina, the beloved wife of Henry Edward Ingleton, aged 28 years.
Hastings and St Leonards Observer - Saturday 10 August 1878
July 31st, at 25, Stonefield-road, Hastings, Albert Edward, infant son of Mr. H. E Ingleton, aged 9 months
Hastings and St Leonards Observer - Saturday 09 November 1918
Mr. & Ms. H. E. Ingleton and family, of 89 Queen's-road, Hastings, wish to thank all kind friends for kind sympathy and beautiful wreaths and flowers sent in their sad bereavement of their darling little daughter, Dolly.[Sic.]