Friends of Hastings Cemetery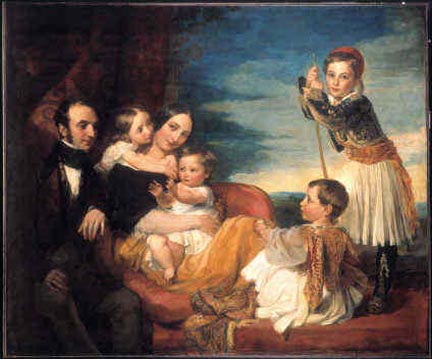 Alexander Constantine Ionides and his Wife Euterpe, with their children Constantine Alexander, Aglaia, Luke and Alecco
George Frederic Watts RA (1817-1904)
c. 1841-42
Oil on canvas
150 x 183 cm
Courtesy the Watts Gallery, Compton
Alexander Constantine Ionides was the son of Constantine Ipliktsis (1775-1852), a Greek textile merchant who emigrated to England in 1815.
Alexander settled in Manchester in 1827, changing his surname to Ionides, and married Euterpe Sgouta (1816-1892) on 5 August 1832. They had five children.
He was a merchant and stockbroker who took over the family firm when he was twenty, and by 1830 metropolitan directories list 'Ionides Co., Merchants' based at 9 Finsbury Circus, London.
He was appointed Greek Consul General in London from 1854-66.
He developed an interest in art and artists and became a colletor. He was one of the Directors of the Crystal Palace.
The Ionides home at Tulse Hill, south London became a gathering place for diplomats, church leaders, artists, writers and musicians.