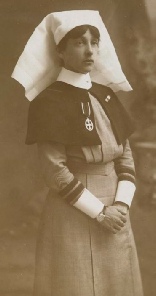 Garden of Remembrance
LAURA ELIZABETH JAMES, 1880-1969: a much decorated New Zealand nurse
Laura James was born on 12/12/1880 in Hokitika, New Zealand, a South Island mining town, the only child of Dr David Philip James and Jane McLean Clayton, who had married in 1875 and who divorced in 1883. Laura's father, a respected Welsh-born, London-trained doctor, went back to England in 1884 and did not return to New Zealand until 1892.
Her nursing training did not begin until she was 26, when between 1906 and 1909 Laura trained as a nurse at the Wellington Hospital, reaching the position of Sister. In January 1910 she sailed for Genoa via Sydney as a companion to the forty year old Miss Gertrude Ellen Meinertzhagen of Waimarama (travelling under the assumed name of Mrs G.E. Murray), who was pregnant with her first child. Laura left before the birth and according to a press report continued on to London.
Miss Laura James, who left Wellington early in December last, and joined the Friedrich der Grosse at Sydney on December 28, landed at Genoa on February 3, and has since visited the Riviera, Milan, Lake Maygiore, Montreux and Lausanne. She arrived in London towards the end of April, and stayed here about ten days. At present Miss James is visiting relatives in South Wales, but will be going to Bristol and Bath, and back to London in July. Further than that she has made no plans as yet. Miss James was a Sister in Wellington Hospital, but resigned in November last, and has come to England with a view to entering if possible the Queen Alexandra Imperial Military Nursing Service.
Her application to join the Queen Alexandra's Imperial Military Nursing Service (QAIMNS) was successful and she enrolled on 03/11/1910 as a Staff Nurse, one of the few women from outside Britain who were in the QAIMNS before the outbreak of WW1. Her reference from the Matron of Wellington Hospital was favourable, but also noted: 'Slightly difficult to work with, but can be guided by good influence'.
Her initial service was in Aldershot, London and Tidworth, Wiltshire. In August 1914, after Britain declared war on Germany, she was mobilised as a Sister and sent to France. Several of her letters were published, in Kai Tiaki, the Journal of the Nurses of New Zealand.
From these letters it is clear Laura was occasionally much nearer to the firing line than the Casualty Clearing Stations, which would never have been closer to the front line than about 10km.
On 29/03/1917 a diary entry by Dame Maud McCarthy, the Matron-in-Chief, British Expeditionary Force, records that Miss James, in charge at No. 45 Field Ambulance, had reported her unit was closing on the 29th or 30th. All the equipment was sent to the Arras underground medical facility, known as Thompson's Cave, but this was bombed only a few days later. On 5th April Laura joined No. 41 Casualty Clearing Station, one of two then situated to the west of Arras at Agnes-le-Duisans; the other was No. 19, to which Laura was posted on 4th May. Her Military Medal Citation reads:
On the night of 3rd May 1917, when Arras was being heavily shelled, Sister Laura James showed great courage, and by her coolness and devotion to duty succeeded in allaying the fears of the patients under her charge. She refused to leave the ward, although the hospital had been hit several times, 3 men being killed and 14 wounded. She was only prevailed on to leave when all the patients had been safely evacuated. London Gazette, 18 July 1917
(There is, however, an issue with this – more information on this and other matters can be had on request from FoHC.)
Following the war the Wellington Dominion newspaper wrote:
There are many who will remember Miss Laura James, a Wellington girl, one of the nurses trained under Miss Payne at the Wellington Hospital and who, with many others, has done such splendid service during the war. Miss James was nursing in a London hospital when war was declared, and was at once sent out to France with a large batch of nurses. She has had some exciting experiences, working close up to the firing line and often in hospitals while they were being shelled. On one occasion, in France, she was sister in charge of the operating theatre at night while shells were actually flying around. The reward was the Military Medal. Later Miss James was sent on to Italy, and was there a Matron in charge of a large hospital. A few months ago she returned to England for a much needed rest, and is now at a hospital there. Miss James was one of the nurses to march the seven miles in the peace procession and all received a wonderful reception from the onlookers. She has earned six ribbons in this war and twice been mentioned in dispatches. The medals are: [A.]R.R.C., M.M., the 1914 Star, General Service War Medal, the Victory Medal and the Allies Medal [the French 1914-18 Inter-Allied Victory Medal]. This is a splendid record for a New Zealand girl and one that her countrywomen might well be proud of.
She was awarded the Royal Red Cross (2nd class) in June 1919, with which she was invested by King George V at Buckingham Palace on 20/02/1920. The 1920 Historical Roll relating to female Military Medals notes that she was also awarded five overseas service chevrons – 1 red and 4 blue – and that she was twice mentioned in Dispatches: by General Sir Douglas Haig's of 13/11/1916 and General Lord Cavan's of 26/10/1918. She was thus one of the most decorated nurses of WW1.
Laura returned to England from Italy in April 1919 and spent the next three months on sick leave. One of the letters on her service file dated 09/07/1921 was written from Windmill Hill Place (Gertrude Murray's home), following a period of sick leave, and this was also noted as her contact address while on sick leave in 1928, 1929 and 1930.
Laura was posted to Gibraltar in 1924 and to Malta the following year, returning to the UK in 1926. In a letter on her service file dated 16/01/1925 there is the following comment:
… it is noted with regret that this lady's conduct should have merited an unfavourable report, especially as a similar report has been made on a previous occasion. I am directed to request that you will be good enough to cause this lady to be informed that her conduct has incurred the severe disapproval of the Matron-in-Chief, and that unless an improvement is noted in her next Confidential Report the question of her retention in the force will have to be considered by the Army Nursing Board.
Between 1926 and 1931 she served in London, Aldershot and Netley, Hampshire (the Royal Victoria Military Hospital), as well as undertaking 'trooping duties'. In December 1931 she embarked for service in India, being stationed first at Poona and later at Quetta (now Pakistan). She was appointed Matron on 23/10/1932. Thereafter she was keen to effect an exchange with another Matron to return to the UK, but in May 1933 she was admitted to hospital suffering from influenza, pleurisy and complications. She returned to England on sick leave later that month, not recommencing her duties until December 1933 at Aldershot. In November 1933, when it was still intended that she should return to India, she wrote again to the Matron-in-Chief requesting an exchange that would allow her to remain in the UK 'as I am anxious for urgent private reasons to complete the remainder of my service in the QAIMNS at a Home Station'. The request was granted and she initially remained at Aldershot, transferring to Catterick, North Yorkshire in 1935. After serving more than twenty three years in the QAIMNS she retired on 11/12/1937, being allowed to retain her Queen Alexander's badge.
She never married and died at The Mount Nursing Home, 6 The Mount, St Leonard's-on-Sea, Sussex, England on 23/02/1969, apparently with no close living relatives. Probate was granted at Lewes, Sussex on 06/05/1969, her estate being valued at £6,703. Her wish was to be cremated, which was carried out at Hastings Crematorium on 27/02/1969; her ashes were scattered there in the Garden of Remembrance and sadly there is not even an entry in the Book of Remembrance to recall her passing.
Taken with permission from Laura Elizabeth James –Working Paper, 2016 by © John W. Hawkins 2016