Friends of Hastings Cemetery

A Regency mahogany bracket clock, Jos Job, Hastings, with silvered circular dial and eight-day striking movement with repeat, in a dome topped mahogany case, inset with cut brass designs, 44cm high.
AE D08
Charlotte Job , died aged 77 in November 1866
Joseph Job, died aged 82 in September 1872
Adam Pentecost Job, died aged 71 in December 1899
From the Sussex Marriage Index:
Hastings All Saints, East Sussex, Date: 20 Jan 1814:
Joseph JOB
Charlotte HADDEN
Their children were:
JOB, Joseph Hadden Chr 1815 Engl Sussex Hastings
JOB, Elizabeth Sentycrop Chr 1817 Engl Sussex Hastings
JOB, Charlotte Hadden Chr 1819 Engl Sussex Hastings
JOB, Mary Ann Chr 1822 Engl Sussex Hastings
JOB, Kerenhappuck Chr 1827 Engl Sussex Hastings
JOB, Adam Pentecost Chr 1828 Engl Sussex Hastings
JOB, Rebecca Hadden Chr 1831 Engl Sussex Hastings
AL E24
Rebecca Job died aged 37 16/02/1869 Sister of James Hadden Job.
Also buried there is Kerenhappuch Job age 91 buried 9/1/1918
Another of his clocks is described: A 19TH CENTURY MAHOGANY CASED LONG CASE CLOCK, having a white painted dial, with Roman numerals, having subsidiary second and date dials, maker Joseph Job of Hastings, in a plain case, 77" high"Hastings and St Leonards Observer - Saturday 12 January 1918. Maybe this description is for the same clock as that shown below (or similar) described as

A mid 19th Century Mahogany longcase eight day two train movement, bell strike. 11 1/2" dial, roman numerals, secondary dial, date indicator. Inscribed Joseph Job, Hastings 1828 - 1870. Height 77". Overhauled and Restored £4,850
There is also a watch (found by a descendent on the Internet)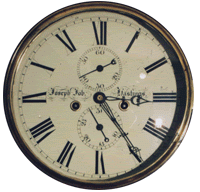 OLD HASTINGS FAMILY.—Many old Hastingers will regret to bear of the death Miss Kerenhappuch Job, which occurred last Saturday at 81, High-street, at the age of 92 years, thus severing a link in a family which has been connected with the Old Town for 107 years. Her father, the late Mr. Joseph Job, watchmaker, commenced business in 1811 and carried it on for 61 years first in the High-street and then, until his death in 1872, in George street.
Deceased was very fond .old Hastings, and always enjoyed talk about the olden times. She retained her faculties until the last few days. The internment took place on Wednesday at the Borough Cemetery, and those who were present or sent floral emblems were Mr. Louis Rogers (nephew). Miss A. P. Rogers (niece), her faithful companion for the last 10 years, Mrs. E. Lord (niece), the Misses W. and A. Lord (great nieces),………
1851 Census - 30 High Street
JOB Joseph Head M M 60 Watch & Clock Maker Cornwall - Crowan(Originally: Cornwall - Crowden)
JOB Charlotte Wife M F 60 Watch & Clock Maker's Wife Sussex - Hastings
JOB Charlotte Dau U F 32 Dress Maker Sussex - Hastings
JOB Kerenhappuch Dau U F 25 Dress Maker Sussex - Hastings
JOB Adam Son U M 21 Watch & Clock Maker Sussex - Hastings
JOB Rebekah Dau U F 19 Daughter Sussex - Hastings
1861 Census - 32 George St
Joseph Job Head Marr 70 Watch & Clock Maker Cowan Cornwall
Charlotte Job Wife Marr 71 Hastings Sussex
Rerrenhappush Job Dau Unm 35 Dress maker Hastings Sussex
Adam Pentecost Job Son Unm 33 Watchmaker Hastings Sussex
Rebecca Haddon Job Dau unm 29 Domestic Assistant Hastings Sussex
Eli Job Grandson 6 Hastings Sussex
Henry Thwaites Rogers Grandson 15 Watch Makers Apprentice Gwitham Cornwall
Hastings News

,
September 20, 1872
Oldest Trader Dies
Joseph Job died on 15th at 32 George Street, in 82nd year. He had been a watchmaker for 61 years and was the oldest tradesman in the borough.
Hastings and St Leonards Observer -Saturday 26 February 1876
The Creditors of JOSEPH JOB, late of Hastings, in the County of Sussex, Watchmaker, who died on the 15th day of September, 1872, are on or before the 17th day of March, 1876, to send prepaid by post to Mr. William Cammack, of Hastings, in the County of Sussex, the Solicitor of the defendant Joseph Hadden Job, the executor of the deceased, ………..
Saturday 18 June 1881, Hastings and St Leonards Observer, East Sussex, England
November 10th, at 32, George street, Hastings, Charlotte, wife of Mr. Joseph Job, Watch maker, aged 77 years. …