Friends of Hastings Cemetery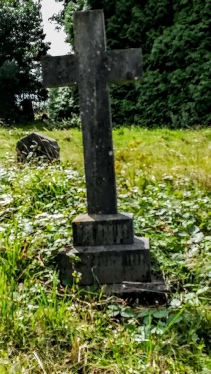 EK C01
Zoe Davina [Halton] Kapadia
Died 21st September 1923
Aged 63
Also
Ardeshir Rustom Paston Kapadia
Husband of the above
Died April 1927 aged 61
The writing on the headstone is not currently readable, and the above has been adapted from Cemetery records.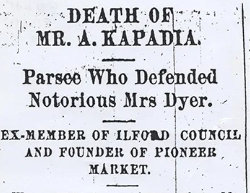 Mrs. Dyer, the baby farmer, was accused of killing an infant she had taken in for adoption. She was suspected of killing many children for money.
The marriage was at the Lambeth registry office 11 March 1886. The bride, Zoe Devinia Halton Young-Hanrott was 26 years old, living at 50 Guildford Road, South Lambeth, and her father was James Denoon Young, deceased, Civil Engineer.The groom, Ardeshir Kapadia, was 21 years old, a as Law Student, living at 68 Blackheath Hill,Greenwich SE10, and his father was Rustomji Kapadia, Tea Merchant.
1891 England Census 120 St Donatt's Road, Deptford.
Ardeshir Kapadia Head M 26 Barrister at Law India
Zoe Kapadia Wife M 28 Clapham, London
Kenneth P Son 4 Kent, Goudhurst
Douglas S Son 1 Kent, Lenham
14-year-old female domestic servant.
1901 England Census - 18 St Donatt's Road, Deptford.
Ardeshir Kapadia Head M 34 Barrister-at-law Bombay, India (British subject)
Zoe Kapadia Wife M 37 London, Clapham
Keneth [sic] P Son 14 Kent, Goudhurst
Douglas S Son 11 Kent, Lenham
Eric R Son 7 London, New Cross
Hugh Son 6 London, New Cross
1911 England Census - Aldborough Grange, Aldborough Hatch, Ilford, Essex.
Adeshir Kapadia Head 47 Married Barrister-at-law Bombay, India (British subject)
Zoe Kapadia Wife 47 Married County of London, Clapham
Douglas Stuart Son 21 Single Shipbroker's Clerk Kent, Lenham
Dorothy Phyllis Daughter 19 Single Kent, New Cross
Eric Roy Son 17 Single Printer's Apprentice Kent, New Cross
Hugh Son 15 Single Kent, Brockley
Two male servants who are listed as farm labourers.
[The ages of Ardeshir and Zoe don't tally with the marriage record or the gravestone.]
DEATH OF MR. A. KAPADIA. - Ilford Recorder, 1927
We regret to announce that Mr Ardeshir Kapadia, of 13, Endsleigh-Gardens, Ilford, died at his home on Monday afternoon at the age of 64, after being confined to his house for a month.
Mr. Kapadia was well known in Ilford although for the past year or so he had taken very little part in the public life of the town.
He was the son of a Parsee merchant in Bombay and was sent to England to study English law. He did so and as a young man became a barrister-at-law. He never practised a great deal in the courts but at one period he became famous as the defending Counsel for Mrs. Dyer in the baby farming case about 30 years ago. Subsequently he became more and more a consulting barrister.
At one period after he had been called to the Bar he was editor of the Hansard Debates in collaboration with Mr. Charles E. Grigsby, another Ilford man who is so well known as "Edwin Charles" the Dickensian.
DURING THE WAR
During the war Mr. Kapadia, who, in March, 1914, had been elected to the Ilford Urban District Council for North Hainault, had charge of the recruiting department at the Town Hall. No less than 10,000 recruits from Ilford and district passed through his hands. Mrs. Kapadia also did a great deal of war work.
Two years ago Mrs. Kapadia died at Hastings [she was staying with her daughter who lived in Hastings] and so great was this affection for his wife that ever since her death Mr. Kapadia made the journey to Hastings every week-end to visit her grave. At his request the grave will be opened and his ashes scattered in it after the cremation at the City of London Cemetery on Thursday (to-day).
FOUNDER OF THE PIONEER MARKET
The crowning effort of Mr. Kapadia's life came a few years ago when he was responsible for the establishment of the Pioneer Market, Ilford-lane.
Previously a few itinerant vendors had done business in Station-road but the big shopkeepers took exception to this and pressure was brought to bear on them with the result that they had to relinquish their stands there. As an outcome of this Mr. Kapadia and some of the vendors got together and acquired the site of the present market and established the Pioneer which is believed to be a unique idea.
Ever since it was established Mr. Kapadia has devoted the whole of his energies to its development.
He was taken ill some weeks before his death with a diseased skull bone. He had one operation but it was not successful and another was projected but he died before it could be carried out.
He leaves four sons and a daughter, all married.
Before he died he left instructions that 24 hours after his death a main artery was to be severed and this was done on Tuesday.