Friends
Of
Hastings
Cemetery
KI D09
Remembered on the grave of her Sister and Father
Sister Elise Kemp - NZ nurse killed while treating the wounded


The story of Sister Elise Margaret Kemp
http://messines1917.blogspot.co.uk/2012/01/sister-elise-kemp-nz-nurse-killed-while.html
Born 1881, Wellington, New Zealand

Educated London & Brussels

Trained King's College Hospital, London

Surgical Nurse & Ward Sister

Called up 1914 to Territorial Forces Nursing Service

Served on the Western Front from January 1916

Killed by a bomb dropped on casualty clearing station,
October 20, 1917
Buried at

Godewaersvelde

,

France-Belgium border

Memorial plaque in King's College Hospital Chapel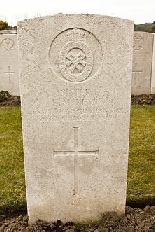 Sister Kemp - "a splendid nurse loved, respected and admired by all who were privileged in knowing her" - was buried at Godeswaervelde in French Flanders just across the border from Belgium. Her grave today is in the Commonwealth War Graves Commission cemetery just outside the small town and far from the normal routes followed by visitors to the World War One battlefields.
On November 3, 1917, the British Journal of Nursing recorded her death as follows:
OUR ROLL OF HONOUR. "Great sorrow has been caused at King's College Hospital, Denmark Hill, by the news of the death of Sister Elise M. Kemp, of the Territorial Force Nursing Service. Sister Kemp, who was trained at King's College Hospital, and afterwards promoted to the position of Sister, was a great favourite with her colleagues, both at home and abroad. At the time of her death she was working at a Casualty Clearing Station in France, where she was killed instantaneously by the explosion of a bomb. We offer our sincere sympathy to her parents, Dr. and Mrs. Kemp, of Hastings, in their bereavement."