Friends
Of
Hastings
Cemetery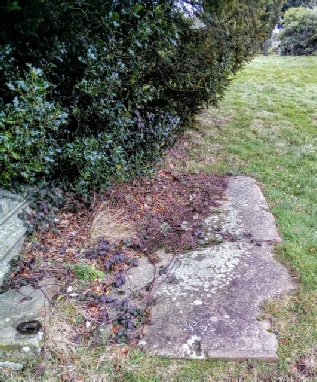 AB L15
Maria Penelope Kent, aged 22, died March 1865.
Maria Penelope Kent was the eldest of the three daughters of William Corbet Kent and his wife Penelope Kent of Green End House, Whitchurch.
Maria Penelope's death certificate states that she died of phithisis pulmonalis, which an old term for TB. She was aged 22 and died on the 13th March 1865 at 56 Marina, St Leonard. It is assumed that the family took her to Hastings to try to help her condition but she died whilst there and was interred at Hastings Cemetery on the 20th March 1865.
The family who provided this information do not know why she was left in Hastings and was not brought home for burial in Whitchurch. From the family archives they know that her two remaining sisters were paying for the upkeep of the grave at least until her last sister passed away in 1928.
In an odd synchronicity "The RHI [Royal Hospital for Incurables] opened a seaside house at 56 Marina, St Leonards-on-Sea in July 1885 and this continued until 1901." It opened 20 years later than Marie's death. Checking the British Newspaper Archive revealed that before this, it was a fashionable hotel, or lodging apartments (now Greeba Court)
The family says they would imagine it would have been the 'fashionable hotel' option at that time, as this was a family with plenty of money!
Maria was staying there with at least her father as he was present at the death.
In another bizarre twist, had Maria been taken home to lay in the family vault there would no longer be a record as in Whitchurch, Maria's grandparents, parents and two sisters were all placed in a family brick vault in St Alkmund's churchyard, the last one placed in the vault being Maria's sister, Dora Jane, in 1928. The Church destroyed their vault, and others, in 1973 in order for a new vicarage to be constructed on the site. It would appear that all the coffins were removed (some known to have been lead coffins, if not all) and there is no information available as to what happened to them.