Friends
Of
Hastings
Cemetery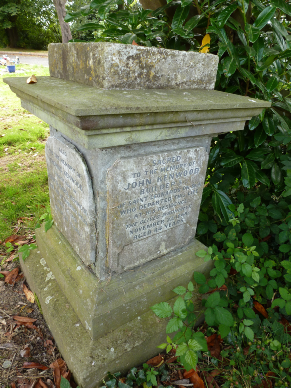 John Kenwood
Sacred to the memory pf John Kenwood, Builder &c.
of Saint Leonards-on-Sea,
who departed this life at his residence, The Olives, Wadhurst
November 22 1868
Aged 44 years.
Also
to the Memory of Thomas Kenwood,
fourth son of
John & Isabel Kenwood,
who died at Tunbridge Wells
……………………
The grave can be found near the front next to the fence in Plot AO.
John Kenwood was a builder in St Leonards on Sea. He must have done well for himself because when he died at the comparatively young age of 44 in November 1868 he was living in a house he had built himself near Wadhurst.
He had however expressly wished to be buried in the Hastings Cemetery. The Hastings News of 4/12/1868 reported on his funeral, which was well attended. He was said to be a successful business man who 'may also be looked upon as a pattern of fair and straight forward dealing in his transactions with others.'