Friends of Hastings Cemetery

Friends
Of
Hastings
Cemetery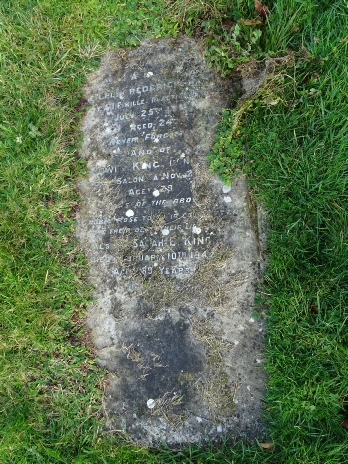 Hastings and St Leonards Observer - Saturday 11 June 1910
King - George William King, of 168, Priory-road, Hastings, passed peacefully away June 8th, age 57.
Hastings and St Leonards Observer - Saturday 21 February 1942
Mrs. Sarah King _ The death of Mrs. Sarah Elizabeth King, 7, Calvert-road, Hastings, occurred at her home onTuesday last week at the age 89. Mrs. King, widow, was known and respected by many local people, having spent many years of her life as a nurse.
The funeral took place at the Borough Cemetery on Saturday, when the Rev. A. B. Duncalfe. of Calvert Methodist Church, officiated.
The immediate mourners were Mr. and Mrs. G. King (son and daughter-in-law). Miss H King, Mrs. Wilson and Mrs. Osborne (daughters) Mr. C, Osborne (grandson) Mr. W. Swain (son-in-law). The members of the family desire their sincere thanks for the kind messages of sympathy and for the floral tributes received.
The funeral arrangements were entrusted to Hinkley Funeral Service, 52, Mount Pleasant-road. Hastings
1891 Census
19 Priory Rd
Surname First name(s) Rel Status Sex Age Occupation
KING George William Head M M 37 Chimney Sweeper(Em'er)
KING Sarah Elizth Wife M F 37
KING Elizabeth Dau - F 13
KING Kate Dau - F 11
KING George Son - M 10
KING Sarah Dau - F 8
KING Jessie Dau - F 6
KING Roas Dau - F 4
KING Edwin Son - M 2
HONEYSETT John - S M 23 Chimney Sweeper(Em'ee)
KH C03
George W King
Died June 8th 1910 Aged 57
Rest in Peace.
Also
of Lce. Cpl. Frederick W King
5th Battalion A.I.F. Killed in action
at Pozeres July 25th 1916
Aged 24
Never forgotten
And of Pt. Edwin King 1st Northants
Died at Salonica November 2nd 1918
Aged 29
Sons of the above.
They nobly rose to their country's call
They gave their best their life their all.
Also of
Sarah E King
Died February 10th 1942
Aged 89 Years
Reunited