Friends of Hastings Cemetery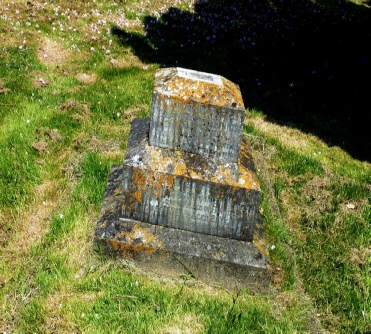 Sergeant John McGregor Kinnis MM and Bar is buried in St Pierre Cemetery, Amiens.


He is remembered on the grave of his grandparents John and Mary Kinnis.
He was a member of the 2nd Battalion Tank Corps and was killed in action in France on 1st August 1918 aged 21. The Bar was gazetted posthumously on 4th October 1918.
BB L21
John Kinnis
Died June 1899
Aged 63
Mary Kinnis
His wife
late of Perth
died 27th October 1913
aged 75
Alan Ernest Kinnis
Died 20th May 1919
aged 4y 6m
Sergeant John McGregor Kinnis - MM and Bar
Tank Corps Killed in action in France
1st August 1918 aged 21
Died 2nd June 1899 aged 63
"His life for his country, his soul to God"
(there is possibly another name but buried in grass)

John and Mary Senior came from Perth, but were in Hastings at 25 Kings Road by 1891. Their son John was a garment dyer, he married Mary Baker in 1895. John McGregor had five sisters – Mary Marguerite, Dorothy, Jessie, Edna and Sylvia, and 3 brothers Gordon, Eric born in 1909 and died aged 18, and Alan [born after WW1] who died age 4 of pneumonia. (Another brother, Roland, died in 1911, aged 0)
By 1911 John, his parents and his 6 siblings were living with his grandmother at her house at 25 Kings Road, where they continued to live after her death in 1913. His parents, and older sister Mary, were involved in clothes dying and dry cleaning.
John was an excellent swimmer as a boy and twice won the Gabbe Trophy representing his school (St Leonards C o E). It was obviously a family sport – his father was an international water polo player (a goalkeeper) and his uncle, Professor Baker of the Hastings Baths, was his coach. John was a member of the Hastings and St Leonards Amateur Swimming club which in September 1914 cancelled its club championship races because so many of its prominent members, including John, had enlisted.
He went to France at the end of May 1915, initially as a private in 12th Army Cyclist Co.
Hastings Observer 17th August 1918
Sergeant Jack Kinnis
It is with deep regret that residents and friends of Sergeant Jack Kinnis MM (with bar) of the Tank Corps learnt of his death which occurred in France on August 1st.
Sergeant Kinnis, son of Mr and Mrs J Kinnis of King's Rd, St Leonards joined the Royal Sussex Regiment very shortly after the outbreak of war, going over to France early in 1915. He transferred to the Tank Corps and in recognition of his splendid services was awarded the MM and since then a bar has been added. He was a splendid soldier and his loss will be greatly felt by his officers and companions who cannot speak too highly of his courage and loyalty. Sergeant Kinnis had been home on leave only a few days before he met his death and had received his medal only a week before. He had been through nearly all of the big battles, including Messines, Vimy Ridge and Cambrai.
In a letter received by his parents from the Chaplain he said that Sergeant Kinnis was walking in front of his tank while moving from one place to another at night when a German aeroplane came over and dropped bombs, one falling right in front of him and killing him instantaneously.
Sincere sympathy will be extended to Mr and Mrs Kinnis in their bereavement.
We received the following last week:
Please grant me space to pay my warm tribute of affection and great esteem for that splendid lad Sergeant Jack Kinnis MM (and bar) so lately killed by a bomb from a Hun aeroplane. Our personal meetings have been very few, but we have exchanged many scores of communications since he joined up in France in 1914, his letters to me always being just inspirations of the grand, great, keen soldier he was to his fingertips.
Exactly three weeks ago I answered a late knock at my door when to my astonishment and equal joy, there stood on my door mat Jack Kinnis, that moment back from France coming direct to me knowing full well how warm and cordial his welcome would be. With brutal frankness I told that I had but an Old Mother Hubbard's larder but if he would go and get food I should be delighted to put him up. Later, well fed, he returned and we had a long, deeply thrilling talk of his beloved 'Canary' Tank Battalion and the great things lately done for which high encomiums had been won.
All know, interested in such matters, that since 1909-10 Jack was champion local boy swimmer, and that was the form of sport ever nearest to his heart and in which he excelled so greatly. The keenness that brother Gordon should be the same last year was almost pathetic, and his joy therefore was great when the boy did win. Many an urgent letter I received on the matter, and almost his first question on July 15th was 'Shall I be in time to see this year's races?' we had much to tell of a race (alas! alas! now never to take place) fixed up between him and a Devon boy who were to swim in a canal in France to settle who was the champion in the water of the Tank Battalion.
Few men have seen more war these four years that Jack and no single man of any rank could have done better or faced the fearful odds more gallantly or cheerfully. One of Hastings grandest lads, a splendid son, a friend who knit himself close. There is no higher praise, God rejoice his soul. C. B. G.