Friends of Hastings Cemetery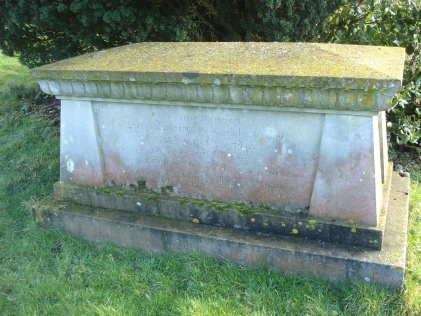 AC K16
In Loving Memory of
George Lindridge, the beloved
husband of Emma Sarah Lindridge
Who died Sept. 7th 1882
For 32 years organist to the Rev. T. Fores of St Mary in the Castle Hastings.
"My grace is sufficient for you, for my power is made perfect in weakness."
Annie Laura Lindridge 1847 - 1877
Lionel Owen Lindridge 1863 - 1886
A synopsis of the Lindridge business mainly from advertisements and directories.
LINDRIDGE, George
1846. Professor of music, no.7 Wellington Sq, is listed as one of 135 traders in Diplock's Handbook.
1851 Mrs Lindridge, no.7 Wellington Sq, lodging house keeper.
1854 music tutor, no.66 Eversfield Place.
1856, organist of St Mary-in-the-Castle.
1857 played the harmonium at foundation stone laying of Holy Trinity church.
1867 professor of music & pianoforte warehouse, no.44 Robertson St and at no.5 Shornden Villas, his home. Also agent for Scottish Union Fire & Life insurance co, no.44 Robertson St.
1874 pianoforte, harmonium & music warehouse, no.44 Robertson St.
1882 George died and his son carried on the business.
1887 piano's, harmoniums, & orchestra di cameras, at piano. & music saloons, rooms for practice; tuning, repairs, regulating. lath bender, workshop Cambridge Rd (back of Cambridge Hotel), residence no.5 Chapel Terrace, Silverhill.
1909 pianoforte dealers, no.44 Robertson St & no.9 Claremont.
1919 LINDRIDGE & SON, Messrs. Pianoforte & music stores, no.44 Robertson St & no.9 Claremont & at Devonshire Rd, Bexhill.
1925 they hire out pianos to Hastings Musical Festival, later hiring from Bluthner Piano Centre Ltd.
1933 Lindridge & Son Ltd, as agents for Chappell pianos at no.44 Robertson St.
1940 Lindridges, 'the music people', pianos, music, no.39 Robertson St; no.23 Claremont; radio (Callows) at no.69 London Rd; service dept Ellenslea Rd; s/h radio no.66 George St.
Hastings and St Leonards Observer - Saturday 16 September 1882
Funeral of the Late Mr. Lindridge.—The funeral of our late lamented townsman, Mr. George Lindridge, took place at the Cemetery Tuesday last, the service being read by the Rev. C. Rolfe, Rector of St. Matthew's, Silverhill. Mr. Lindridge was organist at St. ', Matthew's Church at the time of his illness. He had been organist at St. Mary's during the ministry of the late Mr. Vores, for 32 years.
The Rector of St. Matthew's, in the course of ' his sermon on Sunday morning last, referred to Mr. Lindridge as follows :
"I cannot help speaking of one who passed away from last us Thursday, and who, until lately, conducted the musical part of our worship. He has passed, we trust, into the heavenly sanctuary, and joins now the music of the Church above.
But during his long and most painful illness it was most instructive and comforting to see in him the sustaining power of the true hope.
When first taken ill he was not disposed to think his malady at all serious, but as gradually it was found that no remedies could check its fatal progress, there came plainly before his mind the prospect of separation shortly from those he loved best on earth, and the certainty of Death's near approach.
Then was the time for testing the power of the hope which he had Christ. It stood the test thoroughly. It was his case what it has been in the case of millions of believers in Jesus—a hope that maketh not ashamed—a hope that could give peace to the troubled soul, and patience amid bodily suffering, which enabled him submissively to resign himself to die in the joyful expectation of living for ever with God."
1855 June - A song about Fairlight Glen, Music of the Stream, was published, with words by Arthur Ransom and music by George Lindridge.