Friends of Hastings Cemetery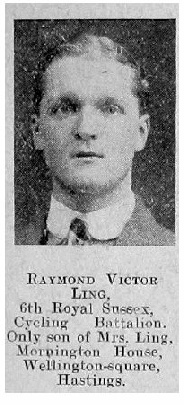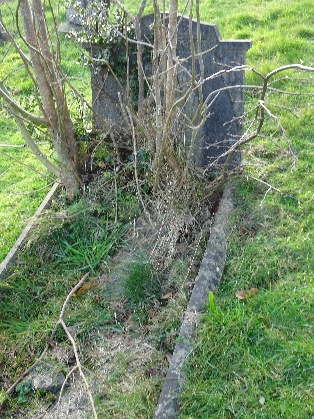 KH H12
Raymond Ling, killed in France in 1917 aged 24 is remembered on the grave of his mother Ellen who died 20/3/1920.
There are possibly others on the stone but hidden by tree growth.
Private 77031, 129th Company, Labour Corps
Born about 1893 in Hastings, son of Abraham and Ellen Ling of 21, Wellington Road, Hastings.
Enlisted in Brighton, serving as Private 675 in the Royal Sussex Regiment. Later served as Private 44781, 21st Labour Company, The Queen's (Royal West Surrey Regiment)
Died 30th August 1917. Buried in Grave IV E22 in Bard Cottage Cemetery
His father was Abraham Ling, and as shown under the photo the address was Mornington House, Wellington Square.
1911 census - at 58 St Thomas's Road
Ellen Ling, widow, aged 47, takes in boarders. She was born in Ottery St Mary. Others in the family - Alice Gladys age 22 a [?] assistant born Nayland Suffolk, Raymond Victor, age 19, outfitters assistant, Edward Thomas Barie, boarder, age 47 widower,…Edward, age 11,