Friends of Hastings Cemetery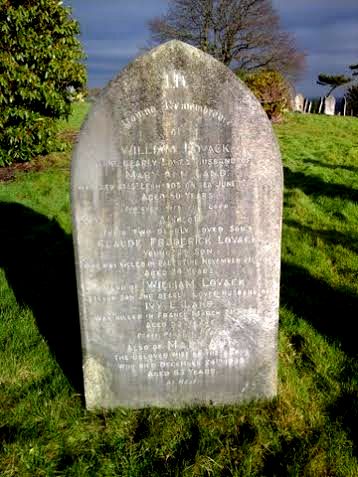 In
Loving Remembrance
of
William Lovack
Dearly Loved Husband of
Mary Ann Land
Who fell asleep ??? June 1907
Also of
Two Dearly Loved Sons
Claude Frederick Lovack
Youngest son
Who was killed in Palestine November 21st 1917
Aged 24 Years
Also William Lovack
??? Loved husband of
Ivy L Land
Who was killed in Ecoust, March 24th 1918
Aged 32 Years
Also of Mary Ann
The Beloved wife of the above
Who died December 24th 1938 [?]
Aged 83 [?]Years
"At Rest"
Buried in JB K12 is the third son who died (see newspaper report) Edgar Hubert Lovak Land, who seems to go under the surname 'Land'. He was 26.
LAND , EDGAR HUBERT LOVACK
Rank:DriverService No:212226
Date of Death:27/02/1917
Regiment/Service:Royal Field Artillery 22nd Reserve
Bty. 4th "B" Reserve Bde.
Grave Reference: Screen Wall. J. B. K12.
Cemetery:HASTINGS CEMETERY, SUSSEX
Additional Information: Wife, Mrs L. E Land, 147 Hughenden Road
LOVACK-LAND, CLAUDE FREDERICK
Rank:Private
Service No:205353
Date of Death:21/11/1917
Age:22
Regiment/Service:Royal Buckinghamshire Hussars
Panel Reference: Panel 3. Memorial:JERUSALEM MEMORIAL
Additional Information: Son of Mrs. M. A. Lovack-Land, of 5, Bank Buildings,
Hastings, and the late William Lovack-Land.
Claude's age is given as 24 on the gravestone, which tallies with his birth in 1893 [FBMD]
LOVACK-LAND, WILLIAM
Rank:Lance Corporal
Service No:58509
Date of Death: 24/03/1918
Age:32
Regiment/Service:Machine Gun Corps (Infantry)
59th Bn.
Panel Reference: Bay 10. Memorial:ARRAS MEMORIAL
Additional Information: Husband of Ivy E. Lovack-Land, of 23, London Rd., St.
Leonards-on-Sea, Sussex.
Hastings and St Leonards Observer - Saturday 08 April 1916
William Lovack Land, 30, claimed on exceptional domestic conditions.
Messrs. Weller and Co., house furnishers, St Leonards, supported the appeal.
Two months extension.
Hastings and St Leonards Observer - Saturday 24 August 1918
Lance-Corporal Lovack-Land
Mrs W Lovack-Land of 23, London-road, St Leonards, has just received a letter from the Swiss Red Cross to say that Lance-Corporal Lovack-Land, Machine Gun Corps (reported missing since the 21st March) has now come through on a list from Berlin as killed between the 21st
and 24th March, near Ecoust, west of Cambrai, and buried
in cemetery north of Ecoust St. Meni, on the road to Croiselles.
Lance-Corporal Lovack-Land was late manager for E Weller Lts, of 23 London-road, St. Leonards. He joined the Special Constabulary soon after the outbreak of war and remained until joining the colours July 15th 1916. He is the second son of Mrs. Lovack-Land, of 5,
Bank-buildings, Hastings, and this is the third son she has lost in the war.