Friends of Hastings Cemetery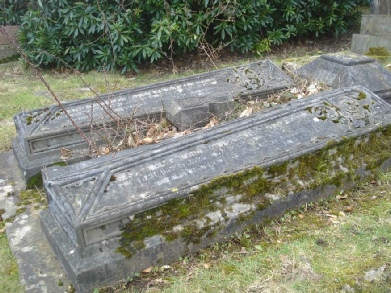 AK A24
The memorial of Rev Charles Henry Lutwidge, his wife, Anne Louisa, and daughter, Charlotte Louisa.
The first Lutwidge to die in Hastings according to freebmd was Henry Charles Lutwidge, who died in 1843 aged forty three
HBC burial records record Lutwidge, Charles Henry, died aged 43 in 1877, yet his wife, Anne Louisa, (nee Raikes) died in the same year aged 80.
They had two children, Caroline Louisa and Charles Robert Fletcher.
Surname First name(s) Age : District - Hastings
Deaths Mar 1843 LUTWIDGE Henry Charles
Deaths Sep 1848 Lutwidge Charles
Deaths Dec 1869 Lutwidge Margaret Anne 60
Deaths Dec 1872 LUTWIDGE Henrietta Mary 61
Deaths Mar 1877 Lutwidge Ann Louisa 80
Deaths Jun 1877 LUTWIDGE Caroline Louisa
We also have Ancestry records:
Cambridge University Alumni, 1261-1900
SCHOOLS, DIRECTORIES & CHURCH HISTORIES
NAME: Charles Henry. Lutwidge
DEATH: dd mm 1843
OTHER: year
England & Wales, Prerogative Court of Canterbury Wills, 1384-1858
TAX, CRIMINAL, LAND & WILLS
NAME: The Reverend Charles Henry Lutwidge
DEATH: Abt 1843
CIVIL: date
RESIDENCE: city, Kent, England