Friends of Hastings Cemetery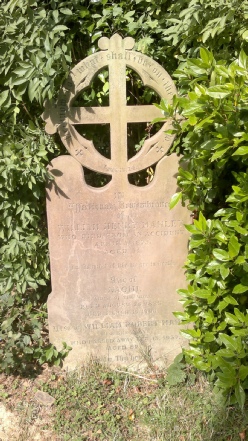 AV I15
Ye know not what shall be on the morrow - James iv.14
In Affectionate Remembrance
of
William Henry Manley
Who died from an accident
April 5th 1875
Aged 51
In the midst of life we are in death
Also of
Naomi
Widow of the above
Born August 25, 1823
Died March 15, 1904
Also of
William Robert Manley
Son of the above
Who passed away Dec 13th 1937
Aged 82
Into Thy hands
There are records of both Naomi Dunk and Naomi Boniface connected with William Manley.
It would appear that both Naomis are the one person.
Naomi was born 25th August 1823 in Pevensey. George Boniface married Frances Dunk until 1826, three years after Naomi's birth. Naomi Boniface, born in Pevensey, is listed in the census records, probably indicating that Naomi regarded herself as the daughter of George Boniface (who may, of course, have been her biological father.)
It is likely that when getting married she felt obliged to use her birth name (i.e. Naomi Dunk).
The address given on the 1851 census for Naomi Boniface is the same as the address on Naomi Dunk's marriage certificate.
In 1841 Naomi Boniface (age 15) is working in Hastings, St. Mary in the Castle.

In 1851 Naomi Boniface, (age 30 [?]) is working as one of five servants in an 'Establishment For Young Ladies' at 52 Marina.
William Manly,[sic] 15, was living in Hastings, St. Clement parish in 1841, with James and Harriet Wellern. James was a butcher.
In 1851, William Manly[sic], 25, was living in Hastings, St. Mary Magdalen parish, with William Strickland, his wife Mary, 43, and their family. Mr. Strickland and William Manly are listed as 'butcher's man'
Both censuses put Naomi Boniface and William Manly/Manley in Hastings.
Marriages Mar 1854
Dunk Naomi Hastings 2b 45
MANLEY William Hastings 2b 45
The 1861 census shows William and Naomi Manley with William working as a journeyman butcher. Naomi and William in the 1861 census had six children: William, George, Ernest, Charlie, Rose and Ellen,
In an 1867 street directory there is a record for MANLEY, William. Lodging house, no.29 Norman Rd West, 1867
William Robert Manley's birth is registered in the September quarter 1854.
1871 Census his occupation was given as a Coach Builder's Apprentice.
He married Emily Grace Boniface, daughter of Stephen Henry Boniface and Emma Sarah in 1879 in Eastbourne.
March 1890 - Presentation
The Loyal Adelaide Lodge (2,007) of the Manchester Unity of the Independent Order of Oddfellows, met as usual on Thursday night in the Gensing road, St. Leonards, and after the ordinary business had been transacted, Bro. William Manley, on behalf of the Lodge, presented the late Treasurer (Bro. Thomas Gardiner) …..
In 1891, at 6 Kenilworth Road
MANLEY William Robert Boarder W M Age 38 Artist Painter Decorator (Employee)
1901 Census His occupation is as a manager in a mineral water works
MANLEY, William R. Sec; St Leonards Oddfellows, no.2 Upper Park Rd, 1905
NEW AMBULANCE HALL. OPENING, May 1909
…………During a smoking concert which followed, Mr. Locke sprang a surprise on Mr. W. R. Manley, the secretary. "I have often wanted to get level with Mr. Manley," Mr. Locke said, "he once ' let me in' for an umbrella." Taking a silver-plated salver from a package he handed it to Mr. Manley, amidst applause. Members of the Brigade, he said, were , extremely anxious to testify the admiration with which they regarded Mr. Manley, and in handing it to him Mr. Locke hoped he would live long to be associated with the work of the Ambulance Brigade. Replying. Mr. Manley said when men took secretarial work for the first year they wore generally idolised, the second year they were analysed, and the third year scandalised. He hoped "that they would reverse the order with him. and that was he going the way to being idol. He thanked them heartily for the presentation. The concert then proceeded.
Appointed to Insurance Committee - July 1912
W. R. Manley. 2, Upper Park-road, Bohemia, St. Leonards
Mr. William Robert Manley, manager of Neve and Co. mineral water manufacturers. 1914