Friends of Hastings Cemetery

Friends
Of
Hastings
Cemetery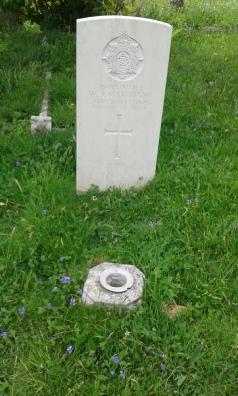 LC H26
William James Marchant.
Died 8th June 1916
Aged 43
Hastings and St Leonards Observer - Saturday 17 June 1916
It is with regret that the death of Private Marchant, of the Army Service Corps, is announced to have taken place at Old Hastings House.
Private Marchant, who on his own wish was removed from a hospital in the North, so that he might be near his family, was admitted to Old Hastings House on June 3rd. He was a married man, whose home was at 39, Hardwicke-road. The funeral, which was a military one, took place on Tuesday. The bearers and firing party were supplied by the 6th Royal Sussex, and about thirty of the wounded from Hastings House lined up in the road. …….. Floral tributes were many, and deep sympathy will be felt for his wife and family. This is the first death that has taken place at Old Hastings House.
He was born in Guestling. In the 1891 census William is a Private at the Barracks Fulwood, Lancs. 1st Royal Sussex Regiment. He married Eliza Fellows in 1900, at which stage she had three children. He became a Private in the Royal Army Service Corps, enrolling in London.
1901 Census – Eliza with 4 children at 14 Sandown cottages, St Helens. She is an Ironer/Laundress. By 1911 William, Eliza and 8 children are living at 196 Mount Pleasant Road.
At the time of his death he was a private in the Royal Army Service Corps, and had enrolled in London. He went to France on 12th July 1915. He was awarded 15 Star, Victory and British medals
Eliza remarried in 1917, to Stephen Taylor.