Friends of Hastings Cemetery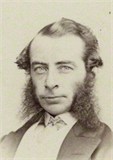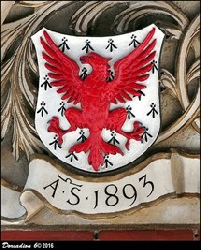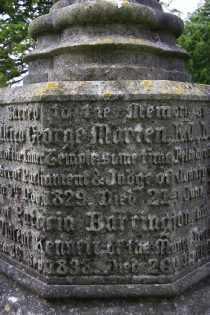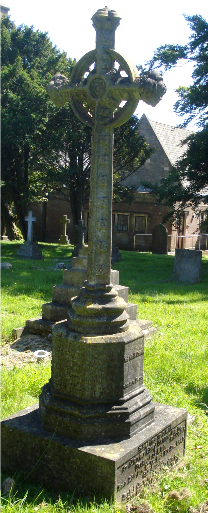 AA B07
The memorial is a Celtic cross on shaped plinth with gothic script, which is hard to decipher. Each side of the plinth has an inscription as follows
Sir Alfred George Marten KC. LLD, Born 09/11/1829. Bencher and late Treasurer of Inner Temple sometime fellow of St.Johns Coll. ONB, MP and Judge of County Courts. 15 Albany Road So he bringeth them to the harbour where they would be.
Patricia Barrington Marten
Born 03/09/1838. Wife of Sir Edward George Marten. Daughter of Capt. Vincent Kennett of Manor House, Dorchester, Oxon.
Isabel Caroline Patricia Marten West side. Born 28/10/1872. Daughter of Sir Alfred George and Mrs. Patricia Barrington Marten.
Alfred Amberson Barrington Marten
East side. M LLD And of their son of Matfield, Kent, Born 03/10/1870, formerly Chief Justice of Bombay.
East side. And of Dame Fanny Lois his [AABM] wife Born 22/07/1874.
Clarence Henry Kennett Marten
West side. Sir, KCVO MA, Born 28/10/1872. Son of Sir Alfred George and Mrs. Patricia Barrington Marten. Provost of Eton.
__________________________________________________________________
Sir Alfred George Marten, QC (8 November 1829 – 22 Jun 1910, St Leonards-on-Sea) was an English politician and barrister. He was Member of Parliament for Cambridge, between 1874 and 1880, as a member of the Conservative Party. In 1896 he was appointed a County Court Judge. He was born in 1829 into a non-conformist family, the third son of Robert Giles Marten of Plaistow, Essex and Eliza Warmington. He was a descendant of Sir Henry Marten, Dean of the Arches, who represented Oxford University in 1628.
His father's and grandfather's business was in shipbroking and insurance in the city of London. However, both his father and grandfather died in 1839. Alfred went to Mill Hill School and then on to St John's College Cambridge. In 1865 he contested Nottingham as a Conservative, but was unsuccessful, and he did not contest the seat again when the two members were unseated.
He qualified as a barrister at the Inner Temple and became a fellow of St John's in 1870. He married Patricia Barrington Kennett, daughter of Capt. Vincent Frederick Kennett, in 1869. He died in St Leonards-on-Sea in 1910. References "Marten, Alfred George (MRTN852AG)". A Cambridge Alumni Database.
Whilst Alfred was based in London and Cambridge, his elder brother Henry John Marten, the engineer, pursued his early career around Wolverhampton. Only after 1880 did Henry have substantial London interests with his work for the Severn Commissioners and an office in Westminster in Storey's Gate. We have a number of artifacts from 'Uncle Alfred' and his family - not least the signed photo above.
He also produced and had published a full Marten family tree which his niece Florence Marten kept. It is now widely available on the Web. His full archive was donated to the Cambridge University Library by his daughter Isabel Marten at her death in 1966
His eldest son Alfred Amberson Barrington Marten went on to become Chief Justice of Bombay. His second son Clarence Henry Kennet Marten pursued an academic career as a historian, becoming Provost of Eton and was appointed tutor to the young Princess Elizabeth in 1938.
Alfred George Marten was knighted in about 1896 - both his sons were also to receive knighthoods.
Sir A. G. Marten. Sir Alfred George Marten, K.C., who was a County Court Judge till 1905, died yesterday at St. Leonards
Depicted Coat of Arms of Sir Alfred George Marten, treasurer of the Inner Temple in 1893, is one (on the left) of two CoAs on beautiful stone tablets located on the facade of Hare Court building in London's Inner Temple.