Friends
Of
Hastings
Cemetery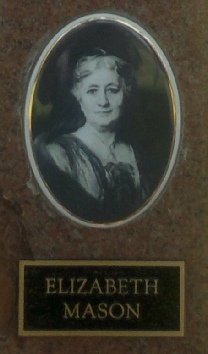 Hastings and St Leonards Observer - Saturday 10 August 1907
OBITUARY. MRS MASON.
We regret to announce the death of Mrs. Elizabeth Mason, of 6, Highland-gardens. St. Leonards, which occurred on the 4th inst.
The deceased lady, who had attained the advanced age of 81 years, was tho widow of Mr. Thomas Mason, formerly of Lynwood, Silverhill Park, St. Leonards. Mrs. Mason was well known in Hastings and St. Leonards for her generous gift of the church Clive Vale. The gift was in memory of her husband. She also took interest in the Buchanan Hospital and in many other institutions, but was of a most retiring and unassuming disposition. For some years she had been an invalid. The immediate cause of death was pneumonia.
Mr. and Mrs. Mason came to St. Leonards from London after Mr. Mason's retirement from business. They resided at 103, Marina, and subsequently at Lynwood. Mrs. Mason had for some time lived at Highland-gardens, and was associated with St. John's Church, Upper St. Leonards. She leaves no family.
Mrs. Mason was the anonymous donor of the new Children's Wing about to be added the Buchanan Hospital.
The funeral took place on Thursday afternoon at St. John's, Upper St. Leonards. The Rev. Canon Jones came from Chichester to officiate. The Revs. J. C. Boyd and F. C. A. Young also attended....... The Nunc Dimittis was chanted as the coffin (which had been placed in front of the chancel, with three lighted candles on either side) was conveyed from the church. .....
The interment took place the Borough Cemetery. "No flowers" had been requested, but there were some beautiful white floral tributes. A wreath was sent by the ChurchwaTdens and Sidesmen of St. George's, Chichester, which Mrs. Mason was largely instrumental in building. .... The coffin was fumed oak with brass fittings. The funeral arrangements were ably carried out by Mr. J. Kennard, of Grand-parade, St. Leonards.