Friends of Hastings Cemetery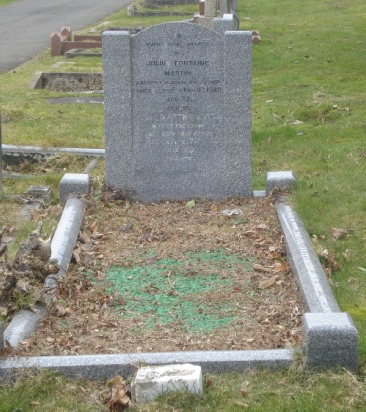 In
Ever Loving Memory
of
Julius Fontaine Mastin
A Devoted Husband and Father
Who fell asleep Nov 8th 1940
Age 72
At Rest
-
Also Martha Jane
Wife of the above
And a very dear Mother
Passed on Nov. 17th 1952
Age 85
Re-United
Julius Fontaine Mastin was born in Hastings in1868. He inherited Mastin Brothers, the Drapers business at 7 to 10 Breeds Place, when his father died in 1889, although he may well have been working with him for some years before this.
The 1891 census shows him as a Draper - Employer. He and his wife Martha are both 23, and they have a cook and a domestic servant.
Julius was a keen cyclist, and at one time was captain of the old Hastings Cycling Club.
As a pioneer motorist he was the owner of a 1903 Argyll, the first car to be registered in Hastings, bearing the number DY1. The number later became available and was acquired in 1960 for use by Hastings Borough
Council on the Mayoral car.
He died at his home, Holmesdale, Lower Park Road, Hastings.
Martha Jane was born in Litcham, Norfolk and her maiden name was Beart. They married in Norfolk in 1890.