Porter, Muriel Lilah Matters-[née Muriel Lilah Matters] (1877–1969), suffragist and feminist, was born on 12 November 1877 in Adelaide, South Australia, the daughter of John Leonard Matters, a cabinet-maker, and his wife, Emma Alma Harburton. Educated at Adelaide High School, she ascribed an early interest in women's suffrage later in life to reading Ibsen's Doll's House at fourteen: 'I shall never forget my joy in finding that the sentiments I had always vaguely but keenly felt had been put into words, forcible, majestic, dignified' (The Vote, 19 Feb 1910, 196). She took a degree in music and became a professional actress and elocution teacher, and toured Australia and New Zealand.
In 1906 she came to Britain, initially for her musical career, but with an introduction to the anarchist circle centred on the exiled Prince Peter Kropotkin.

Muriel Matters rapidly became involved in the campaign for women's suffrage. Early in 1906 she was already attending meetings of the newly militant Women's Social and Political Union in Caxton Hall, London being particularly impressed by the radicalism of Charlotte Despard. In 1907 she followed Despard into the breakaway Women's Freedom League and became one of its most visible activists. In the spring and summer of 1908 she took part in a league caravan tour of Kent, Surrey, and Sussex.
Suffragettes at Hastings - The Mail, July 18, 1908
There has been a week's open air campaign in Hastings by the Suffragettes. Using the Women's Suffrage Van, it began on Tuesday 14th. The two orators were Miss Muriel Matters and Miss Eustace Smith. A meeting was held at Wellington Square on the evening of the 15th, with no opposition offered. At an open air meeting at the Fishmarket on Thursday evening (16th) about 30 youngsters surrounded them, to some amusement.
The Mail of 25 July said the local campaign continued with a meeting on 18th at the Market Hall, George Street. Miss Muriel Matters and Miss Cowen again spoke………. The Suffragettes concluded the week's campaign on Monday evening by holding a lively open air meeting in Wellington Square. A crowd of several hundred gathered, attracted by a large red flag with 'Women's Suffrage' in white lettering. The meeting had just assumed a lively character when the police intervened and stated that the meeting must be closed in accordance with the bye-law. One lad tried unsuccessfully to tear down the banner and received a reprimand from the Australian Miss Matters and several members of the crowd.
The first woman to "speak" in Parliament - On 28 October 1908 she and Helen Fox were in the ladies' gallery of the House of Commons, then enclosed from the rest of the chamber by a metal grille. Muriel called out "We have listened behind this insulting grille too long!" when officials made attempts to remove them, it was discovered that they had chained and padlocked themselves to the grille in such a way that in order to remove them the grille would have to be removed as well. They were taken to committee room no. 13, where their chains were filed off and they were ejected. Muriel Matters then went round to join the demonstration taking place in front of the houses of parliament, where she was arrested on a charge of disorderly conduct and imprisoned for a month.
On 17 February 1909, the day parliament returned from recess, she hired a pilot and an airship, which she had painted with the words 'Votes for Women' and in which she flew at heights of up to 3500 feet over central London, scattering leaflets as she went.

in 1910 she went back to Australia for about three months. By 1911 she was campaigning again. She became increasingly interested in labour politics, in 1913 giving active support to relief work on behalf of families of those involved in the Dublin lock-out. In October 1913 she helped to persuade the National Federation of Mineworkers to declare in favour of women's suffrage. By this time she was also involved with the New Constitutional Society for Women's Suffrage and the Church League for Women's Suffrage.

On the outbreak of war in August 1914 the suffrage societies effectively stopped campaigning, and on 15 October Muriel Matters married William Arnold Porter (1870?–1949), a dentist, who had apparently proposed to her several times, during the previous three years, despite his doubts about her suffrage activities; there were no children.
Subsequently known as Mrs Matters-Porter, she continued her political commitment and became organizing secretary of the British Committee of the International Council of Women.
She travelled to Spain, where she trained under Maria Montessori; she returned to London to help run Sylvia Pankhurst's school attached to the Mother's Arms in Bow. In July 1916 she joined the Women's Peace Crusade in Glasgow, and after the war she spoke at meetings of the Glasgow branch of the Women's International League for Peace and Freedom. By this stage she was also active in the British Dominions Woman Suffrage Union.

By 1924 Muriel Matters-Porter and her husband were living in Hastings, at 6 Beach Terrace, which was several times badly damaged in storms, until purchased by the Council in 1928, "Purchased for £1025 from Dr W A Porter" She stood unsuccessfully as Labour Party candidate in that year's general election.
Hastings and St Leonards Observer, 26 Nov 1927
LABOUR CANDIDATE RESIGNS
MRS. MURIEL MATTERS PORTER AND THE LOCAL PARTY. The Hastings Labour Party is left without prospective Parliamentary candidate the resignation Mrs. Muriel Matters Porter, who fought the last election in the Labour interest.
In June 1926 she had taken part in the Peacemakers' Pilgrimage, together with a number of other members of the Women's Freedom League. Subsequently she seems to have become less politically involved, devoting much of her energies to lecturing and travelling widely. Her husband died in 1949, and she moved to 7 Pelham Crescent, (where there is a blue plaque). Muriel lived there from 1949 to 1969. Contemporary accounts report her skinny dipping off Pelham Beach. Muriel Matters-Porter died of pneumonia at St Anthony's, 82–4 West Hill Road, St Leonards, on 17 November 1969. She was cremated at Hastings Borough Crematorium on 24 November, and her ashes scattered in the Garden of Remembrance.

Wealth at death
£30,408: administration, 16 Jan 1970, CGPLA Eng. & Wales
In 2014 a Blue Plaque was affixed to 7 Pelham Crescent.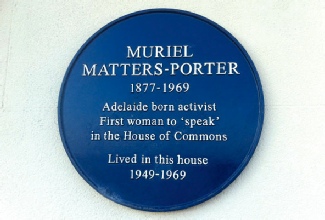 And in the same year the Parliamentary Library Reading Room in South Australia was named in honour of Muriel Matters
A ceremony to name the 'Muriel Matters Room' was held in the South Australian Parliamentary Library on 5 August 2014.