Friends of Hastings Cemetery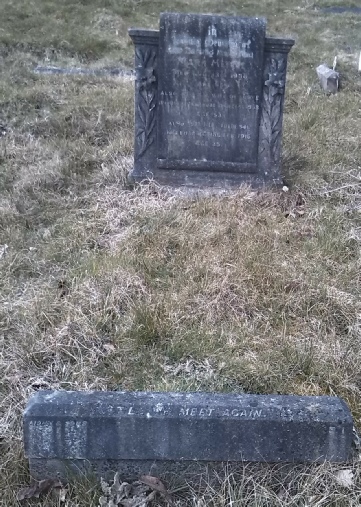 In
loving memory of
Our Darling ???
Mark Meech
Died Aug. 13th 1936
Age 68
Also Mary, wife of above
Interred in Norwood Cemetery 1938
Age 53
Also Willie, their son
Killed in Action, Feb. 1916
Age 25
Also buried in the grave are:
Frederick Chambers – 1920
Sophie Chambers – 1924
Edith Lillian Chambers – 1965
Edith Lilian Chambers
Daughter of the above
died December 6th 1965
Aged 78
Edith married David Chambers in 1927.
The Stonemasons were Monk & son
Mark Meech was born in Bermondsey in 1852. He married his wife Mary James (born Newcastle 1854) in 1879 at St Olaves's, Southwark. They lived in the Lewisham area where all their children were born. Mark worked as a cooper in a brewery. Mark and Mary had eight children, six of whom survived. William Samuel, born in Lewisham in 1891, seems to have been their only son. Mary died in 1908 and was buried in Norwood cemetery. In 1911 Mark was living in Balham with two of his daughters. He was still working. When he died in 1936 his occupation was still described as cooper.
William Samuel Meech was killed in action in France on 6th February 1916. He was a private (S/8961) in the Black Watch, 9th Battalion the Royal Highland Regiment. He is remembered on the Loos Memorial