Friends
Of
Hastings
Cemetery

George Monger VC 1840-1887
Born 3 March 1840
Woodmancott, Hampshire
Died 9 August 1887 (aged 47)
St Leonards-on-Sea, East Sussex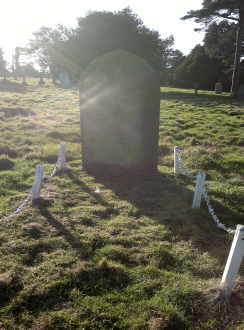 Drummer & late Private ret. R(oyal) W(elsh) Fusiliers
Who at the early age of 17, won the Victoria Cross
for an act of daring gallantry
at the siege & relief of Lucknow
in the Indian Mutiny November 1857
He died of consumption at Bohemia St.Leonards on the 9th August 1888
After much patient suffering, aged 48 years.
Lord Jesu, King of Paradise
George Monger joined the 23rd Regiment of Foot, later the Royal Welsh Fusiliers, as a drummer boy and was sent out to India where he won his VC during the Siege of Lucknow in 1857. At the age of seventeen he was one of the youngest recipients of this award.
He discharged unfit in 1878 from the army and came to Hastings with his wife Mary and family and lived in Tower Road, St Leonards.
It is possible he came to Hastings because of family, as there is a record of property on Fairlight Down owned by Richard Monger, widower, still there in 1750. Also known as 'Munger'; probably descendants of an Ore family from 1550s.