Friends
Of
Hastings
Cemetery
FC J07
Lewis Samuel, Mary Adelaide & Richard Moon
Lewis Samuel Moon was born in Westfield, where his father, also Lewis, was a farmer at Tanyard Farm. In 1881 he was living with his parents at the farm and earning his living as a carter.
By 1891 he was married to Mary Adelaide, and was living at Westbrook, Westfield where he was a farmer and dairyman.
He and Mary (born 1864 at Barcombe) had four children, one of whom was Richard Caleb George Moon, born in 1887.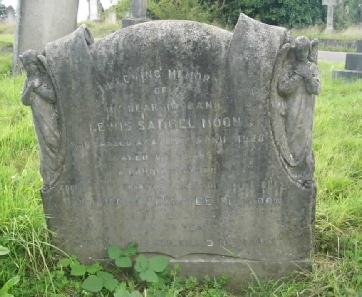 Presumably things did not go well for the family because in 1901 they were living at Martins Cottages, St Helens, Hastings. Lewis was now a labourer on a farm and Richard was already working as a stone mason at the age of 13. In 1911 Lewis and Mary Adelaide were living at 72 Hughenden Rd and were self-employed market gardeners.
In 1909 Richard Moon married Annie Allum a local girl from Ore. By 1911 they were living at 71 Middle Rd, with their 2 year old daughter Annie. He was working as a farm milkman. He enlisted in Chichester and was a private in 8th Battalion, Surrey Regiment. He was killed on 10th August 1917 and is remembered on the Menin Gate Memorial.
Lewis Samuel Moon died on 14th April 1928 and his wife Mary Adelaide on 16th December 1944.