Friends of Hastings Cemetery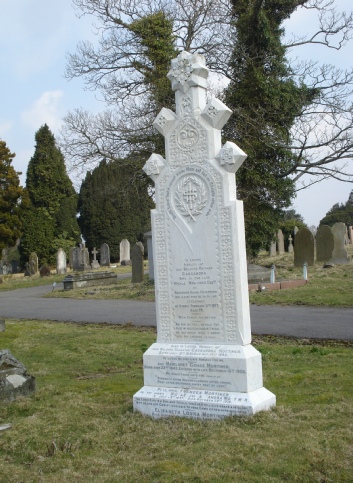 AM D09 / 10
Death Hides! But it cannot divide, thou art but on Christ's other side
In loving
Memory of
Our beloved Mother
Cassandra.
Wife of the late
Michael Mortimer Esquire
of
Rockshire House, Waterford.
Who passed from death to life
at Hastings
on Sunday February 11th 1877
Aged 73
"With Christ, far better"
As for me I will behold
thy face in Righteousness. I shall
be satisfied when I awake
with thy likeness"
Also in Loving memory of
their beloved daughter Cassandra Mortimer
Born July 12th 1841, Died Aug. 14th 1895


"He loved me and gave Himself for me"
And Margaret Grace Mortimer,
Born June 2nd, 1843, Entered into life December 16th 1906


"My peace I give unto you" James 14.27
"Strength after weakness, crown after cross
Rest after weariness, sweet rest at last."
Philippa Frances Mortimer
Youngest daughter of Michael and Alexandra Mortimer
Born July 28th 1847, Died October 28th 1916.
"The Lord God is a sun and shield, the Lord will give grace and glory
Not death but Christ who said to thee, Come hither, oh friend to me."
Elizabeth Louisa Mortimer
Died September 12th 1928 [.....?]
Her husband was a solicitor in Ireland. He was elected to the RDS in 1840. Address: The Mall Trinity Without Waterford
The plot is a double plot, Cassandra is listed at AM D10, and the daughters at AM D09
We know little about them, but in the 1891 census the daughter Cassandra and her sisters are living on their own means at 19 Warrior Gardens
MORTIMER Cassandra Head S F 49 Living On Own Means Co. Waterford MORTIMER Margaret Sister S F 47 Living On Own Means Co. Waterford
MORTIMER Elizabeth Louisa Sister S F 46 Living On Own Means Co. Waterford - - MORTIMER Phillipa Frances Sister S F 43 Living On Own Means Co. Waterford -
MILLS Eliza Servnt S F 65 Domestic Servant Nurse Ireland - Corshal
ELMES Fanny Servnt S F 56 Domestic Servant Parlourmaid Ireland - New Ross
HARTRIDGE Harriet Servnt S F 27 Domestic Servant Cook Kent - Tonbridge HEARD Elizabeth Mahala Servnt S F 25 Domestic Servant Housemaid Kent - Staplehurst
Their ages at death were:
Cassandra 54
Margaret Grace 63
Philippa Frances 69
Elizabeth Louisa 84