Friends
Of
Hastings
Cemetery
Grave No. BF A22
John Harper Narbeth, C.B., C.B.E., M.V.O., M.I.N.A. 26.5.1863 - 19.5.1944
Aquila Elizabeth, his wife died 3.7.1931
John Harper Narbeth was the naval architect who prepared the original design of the Dreadnought in 1906, and the first modern aircraft carrier in 1913.
He was born at Pembroke Dock, Wales, the son of John Harper Narbeth and his wife, Anne Griffiths. He was the fourth child in a family of eight children. His father, after serving at Pembroke dockyard as a shipwright apprentice and writer, became a timber merchant.
Narbeth's interest in the sea began at an early age, and his pastimes of boating and yachting led him to study the behaviour and designs of ships and small craft. He was indentured as shipwright apprentice at the dockyard in 1877, and in 1882 took a course of higher training at the Royal Naval College, Greenwich. Three years later he was appointed to the Royal Corps of Naval Constructors, and became an assistant constructor at Portsmouth Dockyard. In 1888 he married Aquila Elizabeth daughter of W. J. Anstey, foreman shipwright, of Portsmouth.
In 1887 Narbeth was transferred to the staff of William H. White, director of naval construction at the Admiralty. After demonstrating his skill at design work he was entrusted with the preparation of warship designs of gradually increasing size and importance, resulting in three types of battleship: King Edward VII class (of which eight ships were built), Lord Nelson class, and, most famous of all, the Dreadnought. These ships were described by him in a paper read in 1922 before the Institution of Naval Architects. All were larger and more powerful than their forerunners.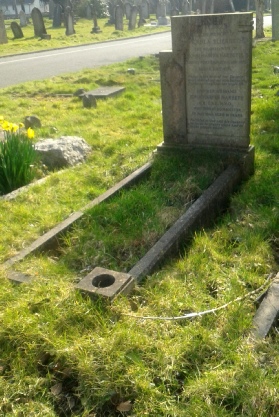 Sacred to
the memory of
Aquila Elizabeth
The beloved wife of
John Harper Narbeth
Born at Portsmouth Jan 1862
Died 3 July 1931.
Happy in the love of her Saviour
whom she had served with increasing
gladness thoughout her whole life.
And her husband
John Harper Narbeth
C.C., C.B.E., M.V.O.,
Who died at Gloucester
19. Mkay 1944, aged 81 years
Faithful to God and his Country.
He loved to create ships and to
make people smile.