Friends of Hastings Cemetery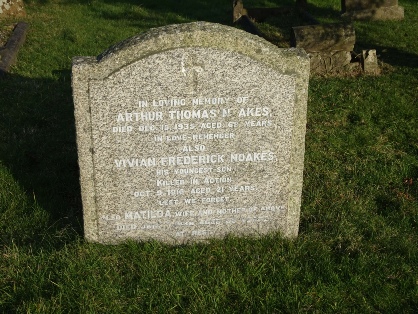 KH I06
In Loving Memory of
Arthur Thomas Noakes,
Died Dec. 15, 1935 aged 68 Years.
In Love-Remember
Also
Vivian Frederick Noakes,
His Youngest Son
Killed in Action
Oct. 9 1916, aged 21 years
Lest We Forget
Also Matilda, wife and Mother of the above
Died January 1938, aged 68
At Rest
Vivian Frederick Noakes was a clerk in a shipping office. He lived with his parents and two brothers in Wilton Road, Barnet. He became a rifleman with the London Regiment (Queen Victoria's Rifles). He is remembered on the Thiepval Memorial.
His father, who was born in Hastings, was working as an ironmonger. It would appear that his parents returned to Hastings, as they both were mentioned in the Hastings & St Leonards Observer at the times of their respective deaths.
Hastings and St Leonards Observer Saturday 21 December 1935
NOAKES. —On December 15th, 1935. Arthur Thomas Noakes. of 5. Trinity- villas. Hastings, passed to his rest after a painful Illness borne with great patience and courage.
Hastings and St Leonards Observer Saturday 29 January 1938
THE LATE MRS. NOAKES.—The funeral of Mrs.

Matilda Emma Noakes

, whose death occurred at her home, 5, Trinity villas, Hastings, took place at the Borough Cemetery on Thursday last week, the Rev. W. Kitley officiating.
The mourners included Mr. and Mrs. A. R. Noakes (son and daughter-in-law), Mr. and Mrs. S. T. Noakes (son and daughter-in-law), Mr. G. J. Paine (brother), Mrs. Wayland (adopted daughter), Mrs. Hamilton and Mr. Aves.
The family desire thank all friends for their tributes and messages sympathy. The funeral arrangements were carried out by Messrs. Douglas C. Mercer and Son, 29, Sedlescombe-road North, Silverhill, St. Leonards, and gave great satisfaction.