Friends of Hastings Cemetery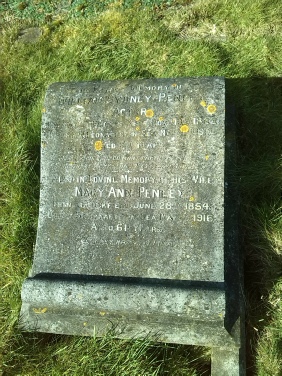 EL L28
William Sidney Penley was born in 1852 in Margate, Kent. He was christened on 10 Jul 1853 in St Peter, Kent. He died on 11 Nov 1912 in St. Leonards.
He married Mary Ann Ricketts on 22 Mar 1879 in Westminster, London, England, United Kingdom.
Mary Ann Ricketts was born about 1855 in , London. She died in Jun 1916 in Hastings,
They had the following children:
M i William Arthur Sidney Penley
M ii Fred Penley
F iii Dorothy Penley was born on 11 Apr 1886 in Wandsworth, London, England, United Kingdom. She died in 1961 in Hendon, London, England, United Kingdom.
F iv Margery Penley
F v Marion Ellen Penley
M vi Charles Fancourt Brandon Penley
M vii Walter Penley was born in 1884. He died in 1884.
William Sydney Penley was an actor and theatre manager. His great-uncle was Aaron Edwin Penley, watercolour painter to William IV. The family had old theatrical associations: his great-grandfather William (1773–1838) had been a comedian at Drury Lane; the elder William's nephews included Sampson (1792–1838) [PENLEY, Sampson. Comedian, unsuccessful applications for theatre in 1813 (with Jonas) and 1819. [Baines:Historic Hastings p.306]; lease granted to messrs John Jonas & Samson Penley, 'commedians' of land adjoining Hare & Hounds p.h., in 1805 to erect a theatre. ] and Thomas Turpin Belville (1805–1893), respectively actor–manager at the Theatre Royal, Windsor, and theatre manager in Bath. (Hastings Chronicle)
Penley attended his father's school, Grove House Academy, initially at St Peter's, and later at Charles Street, Westminster, when his father moved there. In his youth he sang as a chorister at the Chapel Royal, St James's, Westminster Abbey, Bedford Chapel, Bloomsbury, and finally the Russian embassy chapel. After an apprenticeship with a City firm of milliners and fancy-goods manufacturers, he joined the staff of Copestake, Moore, Crampton & Co.
Through the introduction of William Terriss, Penley obtained an engagement at the old Court Theatre under the management of Marie Litton, and made his début on 26 December 1871 as Tim in the farce My Wife's Second Floor by John Maddison Morton. The following October he played in T. F. Plowman's Zampa, and later performed at the Holborn Theatre in Doctor Faust. In 1875 he appeared at the Royalty Theatre in his first successful role, as the Foreman in Trial by Jury by W. S. Gilbert and Arthur Sullivan.