Friends
Of
Hastings
Cemetery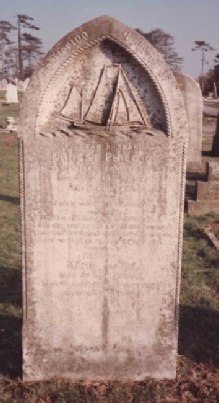 EF K23 Ernest Philcox : Maria Mary Philcox
Ernest Philcox EF K23
In loving memory of
My dear husband
Ernest Philcox
who was suddenly called to his rest
October 13th 1897
Aged 61 years
Also Maria Mary
wife of the above
who passed peacefully away on
December 18th 1902.
The Hastings and St Leonards Observer of 16th October 1897 has the following report:
'We regret to announce the death of Mr E Philcox, part proprietor of the New Albertine yacht and other craft, who passed away suddenly on Wednesday last.
The deceased was a well known figure on the Hastings front in the vicinity of the Queens Hotel Stade and was one of the oldest members of the fraternity to which he belonged, his connection with it dating back some 30 years.
He always takes a great
interest in the sailing races at the Regatta and collected the money for the prizes. His death occurred whilst the Rowing Club Regatta was in progress last Wednesday. Mr Philcox was much respected and his death will be generally regretted.
The headstone carries a representation of the New Albertine.