Friends of Hastings Cemetery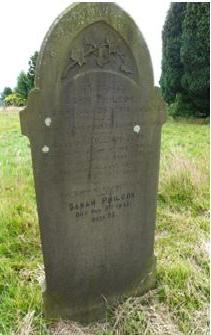 EE I02 [?]
William John Philcox
John Philcox
Sarah Philcox
The Philcoxes were a local family. John had been born in Hastings c1860, his wife Sarah in Sidley c1861 and their four children all in St Leonards or Hastings.
William (born 1891) had one brother and two sisters, Alfred (c1894), Elsie (c1896) and Kathleen (c1903). Another child had died. John was a grocer's assistant and the family first lived at 23 St Paul's Road (1891 Census) before moving to 11 St George's Roadd.
In 1911 both William and Alfred were living at home and working as draper's porters.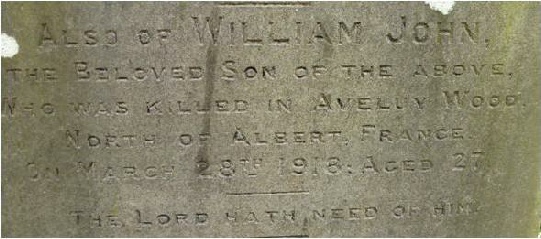 On 13th April 1918 the Hastings Observer records:
'On March 28th 1918 Private William John Philcox Signaller Royal Fusiliers aged 27 years. Dearly loved eldest son of Mr and Mrs Philcox, Granville House, West Hill, Hastings.
You watched for me coming home
Now I will watch for you
And when you reach the Golden Gates
I'll come and lead you through.'
The epitaph reveals that William did not have long to wait – his father died four months later on 29th July 1918 aged 58.
One curiosity of the Observer's death notice is the address – the Philcoxes had lived at 11 St George's Road since before 1911, and Sarah Philcox died there in December 1933.
The gravestone says that William was killed in Aveluy Wood north of Albert and the CWGC records that he is remembered on the Arras Memorial.
Aveluy Wood was part of the Somme battlefield, straddling the road between Albert and Hamel. It had been held by the British until the German Spring Offensive of 1918 but on the night of 26/27th March the Germans attacked and entered the wood and despite stubborn defence from the British and their allies succeeded in holding most of it until they were forced to withdraw in late July 1918. Presumably William was one of the many killed in the March battle.