Friends of Hastings Cemetery
Notes of a Red Army Officer - January 23, 2013 • by Inside Poland
Sergiusz Piasecki's satirical take on the mindset of a Red Army officer – in the figure of the novel's protagonist Michaił Zubow – was a hit the moment it was published in London in 1957.
This production at Białystok's Teatr Dramatyczny has not been going quite as long, having premiered in 1992. But it has nevertheless garnered praise from critical quarters…… The novel, and the play, take the form of a diary written by Zubow, between 1939 and 1945. Zubow, a man brainwashed to the extent that he cannot think for himself, is alternately in thrall to Hitler, Stalin, Churchill and Sikorski.
Aside from the satirical content, the play also offers an insight into the lives of Poles in Vilnius and Grodno during the war, and critics have recognised Piasecki's talent not only in the story, but also in his imitation of the Russian language's forms and structures.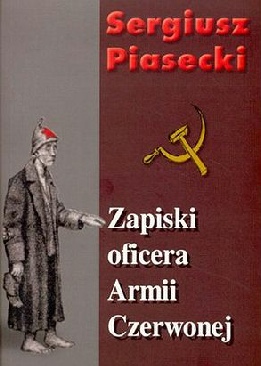 During his lifetime Piasecki was a writer, a convicted armed robber and smuggler, a brave resistance fighter, a member of Intelligence forces, an executioner…….. (Op. Cit.)
With the help of Melchior Wańkowicza, who had first recognised his writing and helped get him released from prison, he was admitted to the II Corps in Italy. Soon, he got in touch with Polish writers living in exile, including Jerzy Giedroyc. In 1947, Piasecki moved to England, his name can be found on a resolution of Union of Polish Writers in Exile, which urged all concerned to stop publishing in the Communist-occupied country. He once publicly declared that he would gladly take any job that would result in erasing Communism.
Piasecki settled first in London and then in Hastings, there are narrative accounts of him living at 11 Hill Street and his burial record records the address 307 Battle Rd. St. Leonards.
He died in the Polish Hospital at Penley, Wrexham from Cancer.
Polish was not Piasecki's first language - he was native in Belarusian and Russian. He became fluent in Polish as an adult.
His work has been the subject of scholarly investigation. E.g.
1.
http://www.jstor.org/discover/10.2307/4203989?uid=3738032&uid=2&uid=4&sid=21102202660347
Sergiusz Piasecki continued