Friends of Hastings Cemetery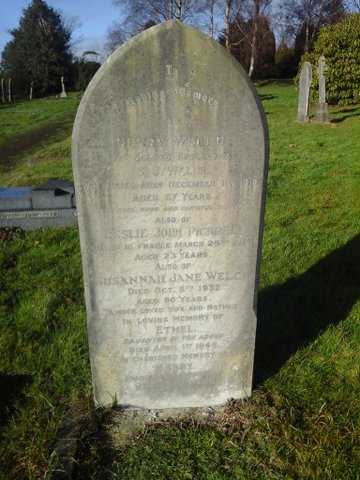 JB K01 - Welch
In
Loving Memory
of
Henry Welch
Beloved Husband of
S. J. Welch
Who passed away December 8th 1918
Aged 67 Years
"Well done good and faithful servant"
Also of
Leslie John Pickrell
Who died in France March 28th 1918
Aged 23 Years
Also of
Susannah Jane Welch
Died Oct. 8th 1932
Aged 80 Years
"A much loved wife and mother"
Also Ethel
Daughter of the above
Died April 1st 1946
"In cherished memory of
"Harry"
Dearly loved husband of
Hilda Hayward
Died 29th June 1946
Leslie John Pickrell
Rank:Second Lieutenant
Date of Death:29/03/1918
Age:23
Regiment/Service:Royal Field Artillery 125th Bty. 29th Bde.
Panel Reference: Bay 1.Memorial:ARRAS MEMORIAL
Additional Information:Son of Samuel Charles and Mildred Pickrell.
Susannah Jane Welch (nee Pickrell) was Leslie's aunt. She was born in Bermondsey in 1852 and married Henry Welch in 1875 at St Olave's Southwark.
In 1881 the Welch family are living in Hammersmith with a John and Jane Pickrell and their 26 year old son Samuel. Samuel has
no occupation listed against him. His father John is 64 and a retired grocer, born in Norfolk, his wife Jane is 40 something and born in Berkshire and Samuel was born in Bermondsey in 1866.
Leslie was born in 1894 in Wandsworth to the above Samuel Charles and Mildred Annie Pickrell (nee Wood). They were married in Wandsworth in 1893 and Samuel died at the age of 33 in 1898 still in Wandsworth.
In 1891 the Welch family were living in Wandsworth. Henry is a draper and they have a servant and an apprentice. Hilda Louise and Ethel C complete the family. In 1901 they were living in Hammersmith and Henry was a clerk. In 1911 they are living in Shepherd's Bush and Henry is a clerk and collector for a coal merchant. Only Hilda is still at home, she is working as a teacher.
In 1901 Mildred is living in Kingston with her widowed mother Annie Wood (born in Gibraltar) and her single sister Minnie who is a school teacher. Minnie was born in Purfleet. Leslie is 6. His mother is living on her own means.
There is an H. Welch listed in the 1917 street directory - Manager, Albany road Laundry, 13 Sackville Road.
Hilda L Welch married Harry P Hayward in Hastings in 1922.