Friends of Hastings Cemetery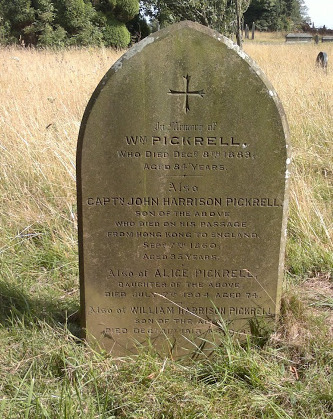 DE M02
In Memory of

Wm. Pickrell.
Who died Dec. 8th 1883:
Aged 84 years
Also
Capt. John Harrison Pickrell
Son of the above
Who died on his passage
from Hong Kong to England.
Sep. 7th 1860
Aged 35 Years
Also of Alice Pickrell
Daughter of the above
Died July 7th 1904, aged 74
Also of William Harrison Pickrell
Son of the above
Died Dec. 21st 1912 aged 30 years
William PICKRELL was born 4th June 1799 in Hillington, Norfolk, christened 28th July, parents Thomas PICKRELL and Elizabeth nee HARRISON.
There are several oddities here. Alice is shown in the records as being buried at EU B02. The age difference between Alice and William H seems extreme. The Alice shown as William H's sister in the census return cannot be his sister above. Again, the ages don't work.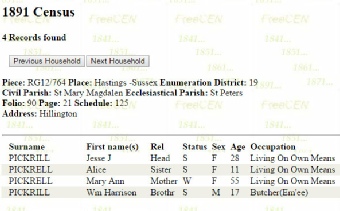 The address on the above census return is "Hillington" in the St Mary Magdalen Parish.