Friends
Of
Hastings
Cemetery
EV A12 Corporal James Pollard
Corporal Lewis James Pollard served in the Motor Transport Section of the Army Service Corps. He enlisted on 23rd June 1916 at the age of 18 years and 11 months. On enlistment he gave his address as 33 Courthouse St, Hastings and his occupation as a motor engineer and driver.
He was sent to join the Motor Transport section at Grove Park at the beginning of 1917. He stayed with them until he was discharged as no longer physically fit for war service on 14th March 1919. At the time he was serving in Dublin and was an acting Lance Corporal. He died of tubercular encephalitis on 1st April 1925.
His poor health was presumably accepted as being a result of his military service as he was in receipt of a pension – there is an official notification of his death in his records, sent in by his aunt Lily Baldwin, in order to stop the pension. At the time of his death he was living at 80 High St, Hastings.
James was the son of Wallace James, and Frances Marion Pollard, who lived in the Old Town.
Wallace was born in 1874 in Hastings and was variously described as a greengrocer and wholesale and retail fruiterer. In the 1901 census Wallace, Frances and Lewis were living at 3 Winding Street, and included in the household were two young men, William Birchett and Charles White, whose occupation was Hawker/Greengrocer.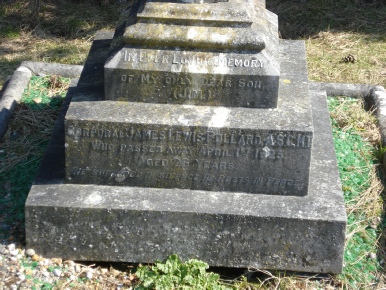 EV A12 -Cross with lilies and urn.
In ever loving memory
of my only dear son Jim
Corporal James Lewis Pollard ASCMT
who passed away 1/4/1925 age 25
He suffered-He rests in peace.
Also of
Wallace James
husband of Frances.
Died 1952, aged 78In memory of
my dear mother
Denise Chapin - nee Pollard.
Died 1978
In Loving Memory
of the …… Mother
Frances Marion Pollard
Died 1928, aged 52
Frances was born at Portsmouth. The 1911 Census shows the family living at 35 Canute Road. There were three children, Lewis James, and his two sisters Selina (?) and Helen. The census also records the sad fact that Frances and Wallace had had 11 children, only 3 of whom had survived.