Friends
Of
Hastings
Cemetery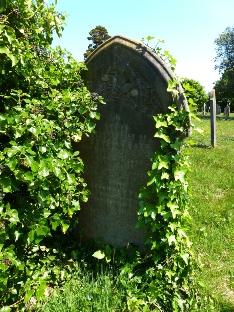 EC G02
The Pratt Family Grave
Peter James Pratt
'Also to the dear memory of Peter James, only son of the above killed in action near Albert on the Somme August 16th 1916.'
In the 1901 census the family consisted of Peter senior (born 1850 in Ore), Sarah (born 1854 Ewehurst), Peter junior and three stepsons from Sarah's first marriage, Edward (born 1881), Frederick (born 1885) and Alfred David (born 1890) Mackellow. All three were born in Sedlescombe. An Irish barmaid was also living with the family, and Peter senior's occupation was listed as licensed victualler.
By 1911 Peter was living at 42 Alma Terrace with his widowed mother, who had retired as a licensed victualler, and another half-brother Harry Mackellow who was 34 and a barman. Peter was a dental trainee.
His half-brother Frederick Mackellow was also killed in the war on 17th July 1917 aged 32, a gunner in the Royal Garrison Artillery. He is buried in La Clytte Military Cemetery Belgium.
Peter was originally posted missing in action (aged 21) because the following notice appeared in the Hastings Observer of 9th June 1917 (page 8)
'Reported missing, now officially killed in action on August 16th 1916, Peter James Pratt, Gloucestershire Regiment. Only child of the late Mr Peter Pratt and Mrs S.A. Pratt, formerly of Bohemia, St Leonards.' He is commemorated on the Thiepval Memorial.
There was also a tribute to him on page 5. His mother "has received information from the War Office that her son Lance Corporal Peter James Pratt must be presumed to have been killed in action.
Lance Corporal Pratt joined the Army on 8th March 1916 and thanks to his previous experience as a scout and his good physique due, in large measure, to his love of manly games and an outdoor life soon made his way and received his stripe. He won a gold medal in the St Leonards Scouts for shooting and in his test for a marksman's badge in the army was the only one out of 38 competitors to pass. He had only been in France one month when he was reported missing on 16th August 1916 and is now posted as killed in action.
The late Lance Corporal was a particularly fine young man standing six foot in height and being of excellent proportions. He was a keen footballer and played centre half for the old Hastings United. His enthusiasm for the game resulted in his becoming captain of his regimental football team.
Two half-brothers are serving with the colours and another has been invalided out."