Friends of Hastings Cemetery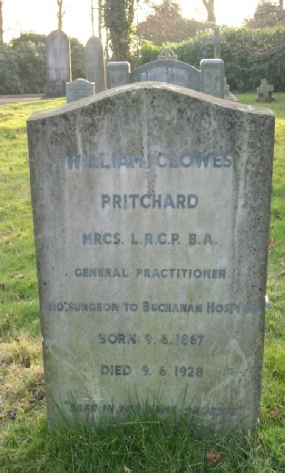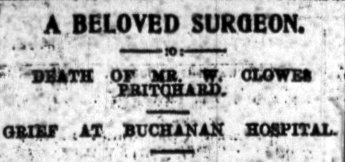 Few men have commanded greater respect and affection than Mr Clowes Pritchard, M.R.C.S., L.R.C.P., who died yesterday at his farm, Cousley Wood, Wadhurst, after a long and painful illness.
From noon onwards the flag was flown at half mast at the Buchanan Hospital, which Mr Pritchard has served as Honorary Surgeon since 1900. The welfasre of the hospital was very dear to him and he was greatly loved both by the patients and by all who weere associated with him in its service. His work for the Buchanan was fittingly recognised when in 1925 the Women's Ward, erected as a war memorial, and opened by Lord Ypres, was named after him.
Mr Pritchard was a Deacon of Robertson Street Congregational Church, .....
An Australian by birth, he came to England when a lad [?]and graduated at Guy's Hospital. [Came to England with a B.A. 1888, from the University of Sydney] In those days he was a keen athlete, but a serious injury at rugger curtailed his activities in that direction.
Over thirty years ago he came to Hastings, took over a practice, and built it up by his skill and hard work until his reputation as a surgeon was second to none in the town. At first he practised as 29 Wellinton-square, later at "Boden House", De Cham-road, St L eonards, and more recently at "Beechwood" Baldslow-road. At one time he took a practical interest in the Homeopathic Dispensary, Cambridge-road. [He attended the Eighth Quinquennial Homeopathic International Conference in 1911] ................
Golf and shooting were among his other recreations.
Mr Pritchard was 61 years of age. He leaves a widow and seven children.
Some online sources give his name as Clowes Pritchard, William