Friends of Hastings Cemetery

EO H06 Arthur Charles Rensch
George Alfred Longhurst
Mary Eliza Rensch
Florence Gates
Arthur Charles Rensch, who is remembered on the grave of his wife, Mary Eliz Rensch, sister-in-law and his wife's first husband, Arthur Longhurst, was killed in the Balkans Campaign on 9th May 1917 at the age of 33.
He is remembered on the Doiran Memorial in the north of Greece near the Macedonian border. He was a private serving with the 7th Battalionn, Oxford and Bucks Light Infantry. He had enlisted in Hastings and initially served with the Royal Sussex Regiment.
He left a widow, Mary Eliza, whom he had married in Hastings in 1915 and who was living at 19, Old Humphrey Avenue at the time of his death.
Arthur was born in Hackney in 1884. His father, also Arthur, was a boot maker. He and his wife Caroline had sixteen children, only nine of whom had survived by the time of the 1911 Census when the family were living at 37 Pedro Street, Hackney. Arthur had previously left home and had been living in lodgings, working as a van boy in 1901, but by 1911 at the age of 28 he was still single, working as a carman and living with his parents and eight other siblings. One brother was in the army and another in the navy but both were at home at the time of the census.
At some point between then and the summer of 1915 he had met Mary Eliza Longhurst, a widow with five young children, living at 9 Woods Passage in Hastings Old Town in 1911. Her first husband was George Alfred Longhurst (1879 -1910) and they had married in 1900. He was a labourer. Mary Eliza came from another large Old Town family, the Morphews. Florence E. Gates, also remembered on the gravestone, was her sister, marrying James Gates, an assistant milkman, in 1904. Mary Eliza died on 28th March 1950 at the age of 70.
Florence died on 15th March 1955 at the age of 72.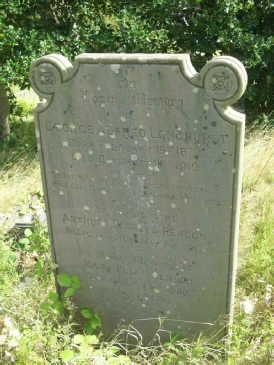 In
Loving Memory
of
George Alfred Longhurst
Born February 19th 1879
Died December 11th 1910
"Short was my [time the longer is] my rest
God called me home when He thought it best"
In Memory of Arthur Charles Rensch
Killed in Action May 9th 1917


In Loving Memory of
Mary Eliza Rensch
Died March 28th 1980
Aged 70 Years
Florence E Gates
[?]