Friends of Hastings Cemetery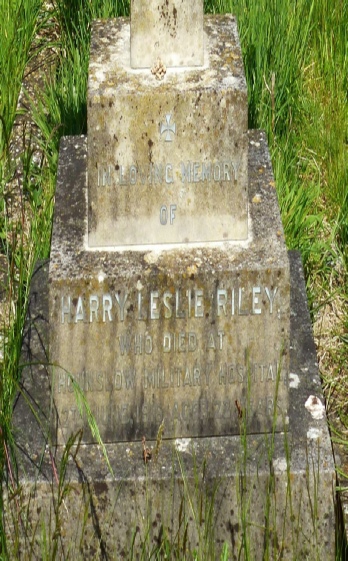 EH O22 Harry Leslie Riley
'In loving memory of Harry Leslie Riley who died at Hounslow Military Hospital 12th June 1916 aged 22 years.'
Harry Riley died in Hounslow Military Hospital on 12th June 1916, aged 22 and is buried in Hastings Cemetery.
He is also remembered on the Screen Wall E.H. 022 in Hastings Cemetery.
He served as a private in the Army Service Corps,
M.T. Dept (Osterley Park).
His death and funeral were announced in the Hastings Observer of 17th June 1916 (page 8)
'On June 12th 1916 at Hounslow Military Hospital, Private Harry Leslie Riley ASC, 22 years, only son of Mrs Riley, 1 Brook Street Hastings. Interment half past three today, cemetery.'
He was born in Hastings in 1894. In 1911 he was living in Brook Street with his mother (born Epsom 1864), a lodging house keeper.
Harry was an apprentice draper. He enlisted in Hastings.
(In 1907 a Harry Riley was summoned for selling ice-cream on the seashore, against new bye-laws. He had a talk from the Chief Constable and was discharged to 'tell his friends about it (the new bye-laws)'. Perhaps this was the same Harry Riley. )