Friends of Hastings Cemetery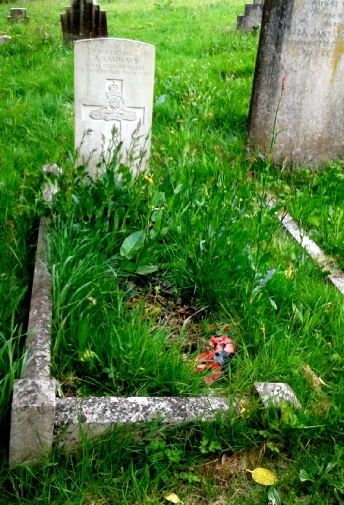 JB 1246
1508 Saddler
A. Samways
Royal Field Artillery
26th February 1916 Age 24
Farewell
Until He whose home
Is ours above
Unite us there
Son of Mr. Samuel. T. and Mrs. Adelaide Samways, of 11, Sedlescombe Road North, St. Leonards-on-Sea.
The followinq PQ may not be the same Aleander Samways (I haven't found a record of him being a sergeant) but the dates and other details tally)
ROYAL FIELD ARTILLERY (SERGEANT SAMWAYS)
HC Deb 16 March 1916 vol 80 cc2266-7 2266
§100. Mr. FALLE asked the Under-Secretary of State for War if he is aware that Sergeant

Alexander Samways, Royal Field Artillery, was billeted last month at Mrs. Woods, 9, Abercromby Avenue, High Wycombe, and fell ill there; that the military doctor was sent for, and after three days said Samways was suffering from pneumonia; that, notwithstanding, no assistance, attendance, or supervision was arranged for; that there was no ambulance to take the patient to the hospital; that the doctor refused to order any conveyance or to be responsible for the same; that the matron of the hospital sent two miles at her own expense to bring the patient in to the hospital; that the patient, while at Mrs. Woods and when suffering from delirium, was allowed to go out scantily clad and run about in the wet; that the doctor had been out of practice for sixteen years and was heard to say that he knew how to deal with shirkers; that another lad had died under somewhat similar circumstances ten days previously; that the sister at the hospital said that the sergeant's life would have been saved had he been sent earlier to the hospital; and if he will inquire into the whole matter so that the sick in billets may be more carefully looked after in the future?